Because my tween readers LOVE reading graphic novels, I'm always on the hunt for the latest new graphic novels for kids.
I'm desperate to find out all of the new releases to see if they are a book my kids would find worth reading.
If you have tween readers at home who love to read graphic novels too, then this is the book list for you.
I've got all the new graphic novels for kids and tweens releasing in 2023 (that I know of so far!) that I think you'll want to check out this year.
Once you make your way through these graphic novels, be sure to check back periodically because I'll add more to the list as their release dates are announced.
*Disclosure: I participate in the Amazon Affiliates program so if you click an affiliate link and make a purchase, I make a small commission at no extra cost to you.
New Graphic Novels I Cannot Wait to Read
There are already so many exciting new graphic novels releasing this year that I wish their release dates would hurry up already.
Of course my kiddos first question is always, "Are there any new graphic novels releasing in book series that I like?"
Well, get ready because Dav Pilkey is releasing book 11 in the Dog Man series this March and we cannot wait!
My daughter is also looking forward to the latest in the Babysitters Club Little Sister graphic novel series which has two new graphic novels coming out in 2023.
Plus the latest in the Phoebe and Her Unicorn series looks awesome, as does the latest in the I Survive graphic novel series.
Sports fans will enjoy Jake Maddox's lateset graphic novels, and I'm excited to see Stuart Gibbs' latest, of which he has two new releases coming out this year.
Share in the comments below which of these new graphic novels your tween reader is looking forward to reading. I'd love to hear it!
Don't miss my list of all the new chapter books for kids and tweens releasing in 2023 too!
Happy reading,
Leslie
New Graphic Novels for Kids and Tweens Releasing in 2023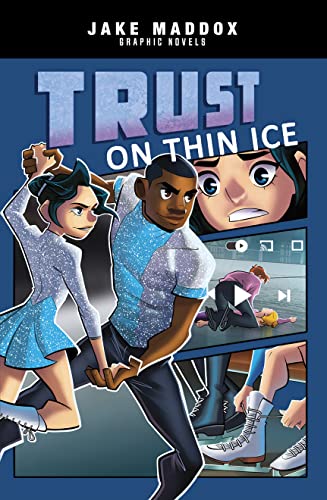 Releasing January 1, 2023
Mina is a talented figure skater, but she's looking forward to trying a new challenge—pairs skating!
Mina has second thoughts, though, when she starts practicing with Luke, a shy boy who she doesn't know well. Can the pair overcome their trust issues and become a successful pairs skating team?
Releasing January 1, 2023
Alejandro is a new high school quarterback with big shoes to fill—his brother's. But none of the plays that worked for his brother seem to be working for him.
With Coach J threatening to bench him, Alejandro has to come up with something good fast. His sister Izzy just might be the secret weapon he needs!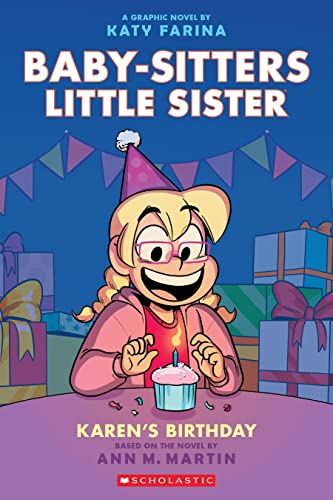 Releasing January 3, 2023
It's Karen's birthday! She can't wait for all those presents. Karen is even going to have two parties — one at Daddy's house and one at Mommy's.
But what Karen really wants for her birthday is one big party and to celebrate the special day with her whole family together. Will Karen's birthday wish come true?
Releasing January 3, 2023
Crime doesn't pay in Caper Cove with Officer Clawsome and his partner, Stariana, on the case. Just ask the notorious Catburglarfish—she'll confirm.
But when the beloved bakery Kelpy's Kelpcakes goes missing and rumors begin swirling about shark sightings for the first time in a hundred years, the duo is about to find themselves claw-deep in a mystery for the ages.
Will this dynamic duo save the day yet again, or have the citizens of Caper Cove eaten their last Kelpcake…for good?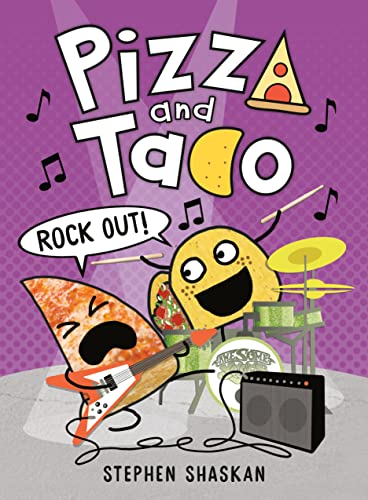 Releasing January 3, 2023
Pizza and Taco love music! They make lists, and they have tryouts to get more band members.
They think they have all the ingredients to rock the scene. But maybe this garage band should stay in the garage!!
Discover the Best Chapter Book Series for Tweens!
Releasing January 17, 2023
Welcome back to Nothing! After the battle with Stryx, Nathan is lost and alone (again). But this time, he has friends to find and a quest to continue!
At least no one is chasing him . . . well, except for that ancient evil spirit trying to destroy Nothing. Oh, and the war started (great!).
Once reunited, Nathan, Haven, Sina, and Bardou must continue their journey to the Edge. Nathan has visions of Lerina that intensify as they travel, and the group discovers the clues to save Nothing may reside in the lost legends of the past.
Unexpected allies appear but new enemies lurk everywhere, and the most powerful foe is attacking Haven's spirit from within.
If Nathan and his band of friends weren't already feeling the pressure, they must prevent two realms from tearing Nothing apart, defeat Stryx, and not die in the process (no biggie).
Otherwise, volken, faes, and all magic could vanish from Nothing . . . forever.
Releasing January 17, 2023
Kate, Mia, Lainey, and Gabby are back—along with Tinker Bell and their fairy friends from Pixie Hollow—for more magical adventures together.
In this first Disney: The Never Girls graphic novel, the girls find themselves in the middle of a mermaid-pirate feud that has all of Never Land taking sides!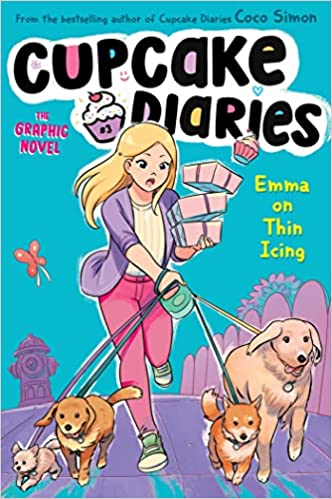 Releasing January 24, 2023
When Mia asks the Cupcake Club girls to be junior bridesmaids in her mother's wedding, everyone is super excited about the idea—especially when they find the perfect dress for the occasion!
It's Emma's dream dress…except for the price tag. And with her mom recently out of work, there's not a lot of room at the Taylor house for extra expenses.
Not wanting to disappoint her friends, Emma decides to take on a few more jobs and chores around the house to help cover the cost.

Between babysitting her bratty brother, a dog-walking business, flute practice, the Cupcake Club—and oh yeah, being a typical tween girl—Emma may have bitten off more than she can chew.
Can she pull of the balancing act and go to Mia's mom's wedding in style?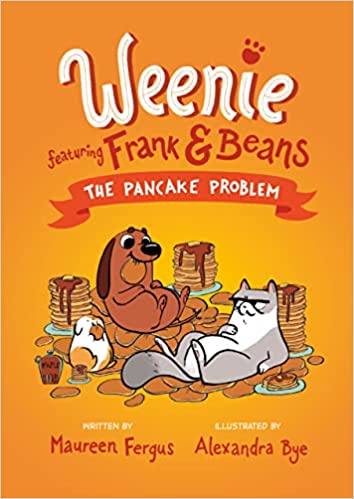 Releasing January 24, 2023
Weenie loves his human, Bob. He loves his guinea pig friend Beans and his cat friend Frank. He loves naps, adventures and sharing. In fact, Weenie loves pretty much everything (except brussels sprouts).

And Weenie SUPER LOVES pancakes. Maybe too much. When the SuperSonic Pancake Maker malfunctions, Weenie knows exactly what to do! Sort of.
Releasing February 7, 2023
It's a best friend battle!
Natalie is having a rough start to the school year. Each student has been asked to join an extracurricular activity, and Nat's two best friends have no trouble finding activities that interest them.
Flo tries her hand at puppetry, and Zoe makes the volleyball team… with Nat's ex-BFF, Lily! So now Zoe and Lily are always together, and Nat's over it!
Nat's feeling betrayed, and she still hasn't found a club to join. But when Nat meets a new student who's having the same difficulty choosing a club, they decide to create one together.
Could this be the solution to her problems?
Related: Nat Enough Series in Order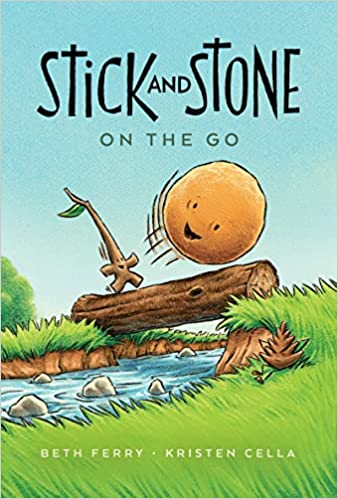 Releasing February 7, 2023
Stick would go anywhere with his best friend, especially if they're planning a picnic. But when picnics involve lemons and bees and caves, Stone's not so sure.
Join Stick and Stone as they go spelunking. Accompany them as they meet all sorts of new friends, including a big, fluffy monster!
Releasing February 14, 2023
Walt Disney Animation Studios' Strange World journeys deep into an uncharted and treacherous land where fantastical creatures await.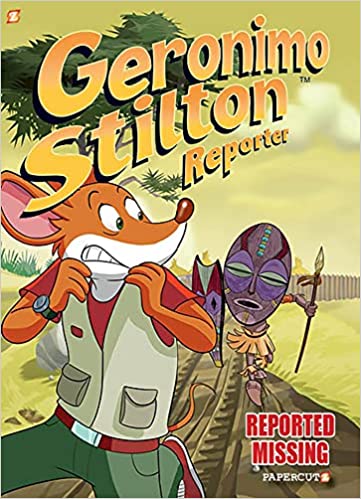 Releasing February 14, 2023
Geronimo Stilton's dealt with mummies, ninjas, and pirates, but this may be the first time he's come face to face with… ghosts!
Can the scaredy-mouse overcome his fears and get to the bottom of the mystery for a big scoop for his newspaper, The Rodent's Gazette?
For help, who's he gonna call? His ghost-bustin' relatives, of course!
Geronimo and his family need to travel to a haunted museum in Africa for this globe-trekking, teeth-chattering spooky adventure, whether Geronimo likes it or not!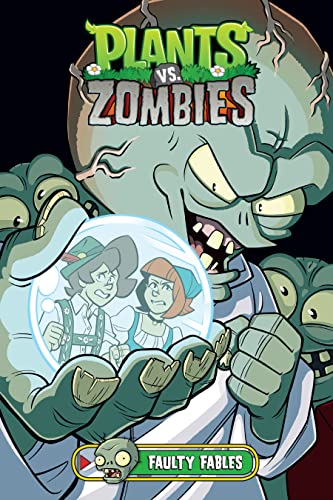 Releasing February 14, 2023
Neighborville's citizens and plant army protectors will hit the hay . . . leaving Zomboss and his minions free to hit the brain buffet!
Crazy Dave isn't sleeping, though, as he tries over and over again to invent the correct counterattack!
Releasing February 21, 2023
At S.U.I.T. headquarters, Cilantro the Chameleon finally gets what she's been waiting for: a field assignment.
Only…it's literally out in the middle of a field, and her orders are so vague, she can hardly tell what she's supposed to be investigating.
But as she begins to uncover a sheep-led worker's rights revolt and an alien invasion conspiracy—not to mention a spooky haunting at the abandoned S.U.I.T. field outpost—Cilantro steps into her own V.E.S.T. as a valued member of the S.U.I.T. team.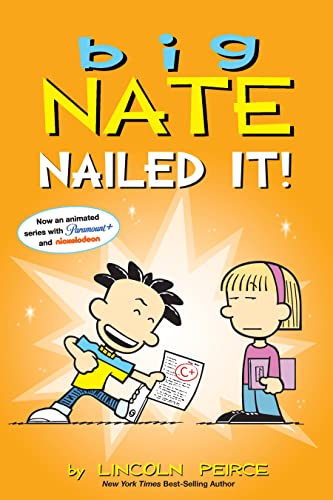 Releasing February 28, 2023
Big Nate is a legend at P.S. 38, where he and friends Francis, Teddy, Dee Dee, Chad, and others manage to make sixth grade interesting with all kinds of pranks, drama, sports, and good times.
The all-time leader in detentions, Nate is never far from the spotlight, whether it's for a freak injury on the soccer field, Halloween costume fail, or stirring up a new episode in his long-running rivalry with grade-grubbing Gina or his teacher nemesis, Mrs. Godfrey.
Releasing February 28, 2023
Sometimes the world needs to be saved and there's only one person brave enough to do it. This time . . . that person is Gina.
With the help of D.J., Hilo, one warrior cat, one warrior cat's annoying little brother, one flying Bearacat, lots of magic, lots of action, lots of laughs, and a whole world that believes in her, Gina is ready to save the world once and for all!
Related: Hilo Books: The Ultimate Guide to the Graphic Novels
Releasing February 28, 2023
Everyone sees Artemis, goddess of the hunt, as the bravest goddess girl at Mount Olympus Academy.
What her classmates and best friends don't realize is that sometimes she isn't as courageous as she seems. And, when Orion—a foreign exchange student from Earth—enters the picture, she is even more nervous than usual!
Can Artemis prove to her friends, and herself, that she can live up to her name?
Releasing March 7, 2023
Eleven-year-old Avery Lee loves living in Hickory Valley, Maryland. She loves her neighborhood, school, and the end-of-summer fair she always goes to with her two best friends.
But she's tired of feeling squished by her six siblings! They're noisy and chaotic and the younger kids love her a little too much.
All Avery wants is her own room — her own space to be alone and make art. So she's furious when Theo, her grumpy older brother, gets his own room instead, and her wild baby brother, Max, moves into the room she already shares with her clinging sister Pearl!
Avery hatches a plan to finally get her own room, all while trying to get Max to sleep at night, navigating changes in her friendships, and working on an art entry for the fair.
And when Avery finds out that her family might move across the country, things get even more complicated.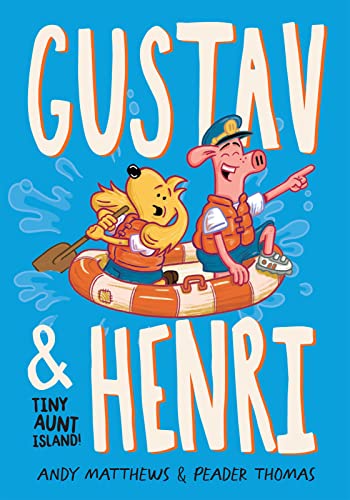 Releasing March 7, 2023
Meet Gustav and Henri. Two best friends who are opposites.
It's a bit about friendship and a whole lot about food (especially ice-cream and waffle cones)
They love doing sensible things like paddling a boat INTO THE HEART OF A SUPERSTORM! or rescuing a lost puzzle piece – BY SHRINKING! Or visiting an aunt – WHO HAS DISAPPEARED! You know, complete SENSIBLE things.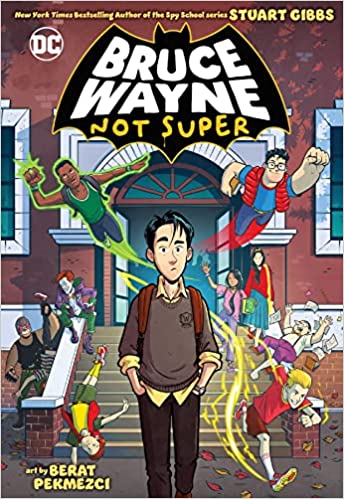 Releasing March 14, 2023
It's hard enough being in middle school, but it's even worse when you're the only kid at your school who doesn't have super-powers.
That's the case for poor Bruce Wayne at the Gotham Preparatory School for the Really, Really, Really Gifted, where the struggles of being un-powered are made worse by the presence of so many exceptionally gifted students.
He doesn't stand a chance of winning a race against the future Flash, or a swim meet against the future Aquaman, and he always gets picked last for dodgeball.
And when it comes to winning the attention of the most popular girls at school—Diana Prince and Selina Kyle–he figures he stands no chance at all.

Bruce does have a goal though: he wants to make a difference in the world. But how can he do that when he doesn't have any powers?
While the Future-Supers are currently content to simply use their gifts to glide through school and court popularity, Bruce struggles to figure out if he has any gifts at all — and if so, how to use them.
His challenge comes when he discovers fellow student Jack Napier and his hired bully Bane shaking down lesser-powered students for money, including that hapless kid Dick Grayson.
Someone must stand up to them and somehow, it's going to be Bruce!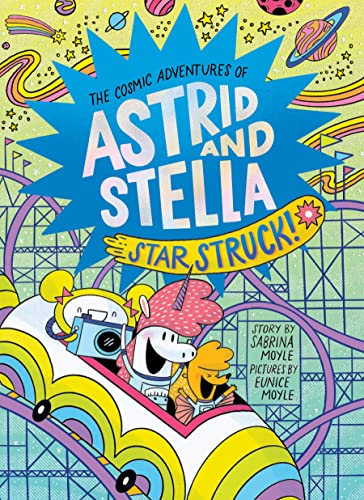 Releasing March 21, 2023
Astrid and Stella are best friends and intergalactic heroes. But sometimes, even this dynamic duo needs a reset.
After drifting into a dangerous force field powered by misunderstanding, it will take total teamwork to get back on track!

Once they've recovered from that detour, a run-in with a fur-miliar villain and the rescue of an intergalactic pop star are enough to keep things interesting for Astrid, Stella, and their trusty robot sidekick, Bobo.
They just need to remember what's most important—friendship and being true to yourself! Astrid and Stella just might surprise themselves by learning a few new things along the way, too.
Releasing March 28, 2023
Piggy is back, and his newest plot is his most diabolical yet. Dog Man and the rest of your favorite characters must join together in this heroic and hilarious, ALL NEW adventure.
WHAT new villains are on the horizon? WHERE are they all coming from? And WHO will step forward to save the city when scoundrels sabotage our Supa Buddies?
Related: Dog Man Books in Order: The Ultimate Guide, Books Like Dog Man
Releasing April 4. 2023
Phoebe Howell and her unicorn best friend, Marigold Heavenly Nostrils, are headed to music camp for the summer, where they form a punk rock group with fellow campers Sue and Stevie.
Marigold also discovers a portal to a parallel dimension where she and Phoebe come face-to-face with the dark and sinister versions of themselves.
Related: Phoebe and Her Unicorn Books in Order: The Ultimate Guide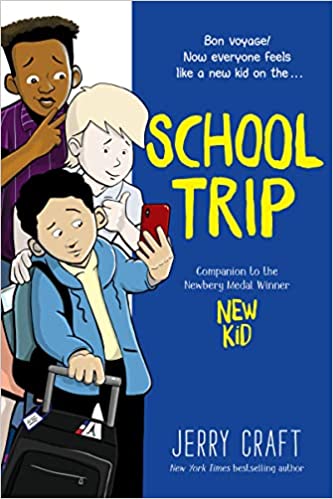 Releasing April 4, 2023
Jordan, Drew, Liam, Maury, and their friends from Riverdale Academy Day School are heading out on a school trip to Paris.
As an aspiring artist himself, Jordan can't wait to see all the amazing art in the famous City of Lights.
But when their trusted faculty guides are replaced at the last minute, the school trip takes an unexpected—and hilarious—turn.
Especially when trying to find their way around a foreign city ends up being almost as tricky as navigating the same friendships, fears, and differences that they struggle with at home.
Will Jordan and his friends embrace being exposed to a new language, unfamiliar food, and a different culture? Or will they all end up feeling like the "new kid"?
Releasing April 4, 2023
Ben Ripley is a middle schooler whose school is not exactly average—he's spent the last year training to be a top-level spy and dodging all sorts of associated danger.
So now that summer's finally here, Ben would like to have some fun and relax. But that's not going to happen during required spy survival training at a rustic wilderness camp, where SPYDER, an enemy spy organization, has infiltrated the spies' ranks.
Can Ben root out the enemy before it takes him out—for good?
Releasing April 4, 2023
Minutes before she died Grace Cahill changed her will, leaving her descendants an impossible decision: "You have a choice – one million dollars or a clue."
Grace is the last matriarch of the Cahills, the world's most powerful family. Everyone from Marie Curie to Harry Houdini is related to the Cahills, yet the source of the family power is lost.
39 Clues hidden around the world will reveal the family's secret, but no one has been able to assemble them.
Now the clues race is on, and young Amy and Dan must decide what's important: hunting clues or uncovering what REALLY happened to their parents.
Related: Percy Jackson Books in Order: The Ultimate Guide
Releasing April 4, 2023
Feng-Li can't wait to discover America with her family! But after an action-packed vacation, her parents deliver shocking news: They are returning to Taiwan and leaving Feng-Li and her older siblings in California on their own.
Suddenly, the three kids must fend for themselves in a strange new world-and get along. Starting a new school, learning a new language, and trying to make new friends while managing a household is hard enough, but Bro and Sis's constant bickering makes everything worse.
Thankfully, there are some hilarious moments to balance the stress and loneliness. But as tensions escalate-and all three kids get tangled in a web of bad choices-can Feng-Li keep her family together?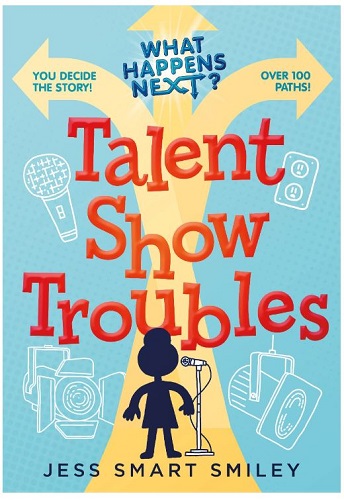 Releasing April 11, 2023
Megan Hathaway is in charge of Sunbright Middle School's talent show, and everything is going wrong.

Animals are running wild backstage, vice-principal Fisher is out for blood, and Megan's friend Olivia might be turning into a zombie.
Can YOU help Megan salvage this mess, or will you doom her to an eternity in the school's basement?!

With over 25 different endings, What Happens Next: Talent Show Troubles is an interactive misadventure you'll be coming back to over and over!
Releasing April 18, 2023
When Jarrett J. Krosoczka was in high school, he was part of a program that sent students to be counselors at a camp for seriously ill kids and their families.
Going into it, Jarrett was worried: Wouldn't it be depressing, to be around kids facing such a serious struggle? Wouldn't it be grim?
But instead of the shadow of death, Jarrett found something else at Camp Sunshine: the hope and determination that gets people through the most troubled of times.
Not only was he subject to some of the usual rituals that come with being a camp counselor (wilderness challenges, spooky campfire stories, an extremely stinky mascot costume), but he also got a chance to meet some extraordinary kids facing extraordinary circumstances.
He learned about the captivity of illness, for sure but he also learned about the freedom a safe space can bring.
Releasing May 2, 2023
What's better than BFFs? Super sidekick BFFs! Katie can't wait to have Beth join her for sidekick training!
Until . . . it turns out Beth might be a way better sidekick than Katie! And now Beth and Marie are hanging out all the time, Jess is acting super weird, and Katie still needs to tell her mom about being a sidekick.
Oh yeah, and giant robots are attacking the city. So. That's not great.

Can Katie and 217 super-unusual cats work together to save the city (and seventh grade)? Or is Katie about to be in super trouble?
Related: Katie the Catsitter Series: The Ultimate Guide
Releasing May 2, 2023
Oscar Starling never wanted to move to Chicago. The smog, the stench, the thieves around every corner — it's so different from his old life on the farm.
Will the big city ever feel like home? ​​​​​​​But shortly after Oscar arrives, a huge fire breaks out. All of Chicago is ablaze and one thing is clear: the city is like a powder keg, ready to explode.
An army of firemen tries to help, but this fire is a ferocious beast that wants to devour everything in its path. Will Oscar — and his new city and new friends — survive one of the most famous and devastating fires in history? ​​​​​​​ ​​​​​​​
Related: I Survived Graphic Novels List
Releasing May 2, 2023
Sixth grade isn't as great as Rex thought it would be. He's the only kid who hasn't had a growth spurt, and the bullies won't let him forget it.
His closest friend is unreliable, at best. And there's a cute girl in his class who he can't stop thinking about.
With so much going on, everything is a blur — including Rex's vision! So when he discovers that he needs glasses, and his family can only afford the ugliest pair in the store, any hope Rex had of fitting in goes completely out of focus.
In this true coming-of-age story, Rex has his sights set on surviving sixth grade, but now he's got to find a way to do it with glasses, no friends, and a family that just doesn't get it!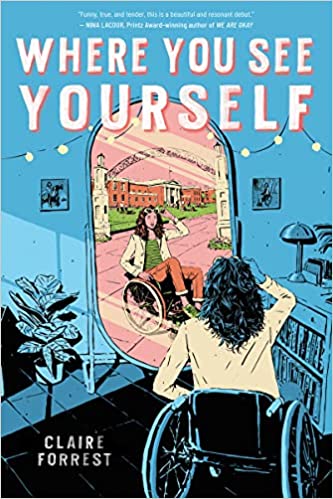 Releasing May 2, 2023
By the time Effie Galanos starts her senior year, it feels like she's already been thinking about college applications for an eternity―after all, finding a college that will be the perfect fit and be accessible enough for Effie to navigate in her wheelchair presents a ton of considerations that her friends don't have to worry about.
What Effie hasn't told anyone is that she already knows exactly what school she has her heart set on: a college in NYC with a major in Mass Media & Society that will set her up perfectly for her dream job in digital media.
She's never been to New York, but paging through the brochure, she can picture the person she'll be there, far from the Minneapolis neighborhood where she's lived her entire life. When she finds out that Wilder (her longtime crush) is applying there too, it seems like one more sign from the universe that it's the right place for her.
But it turns out that the universe is full of surprises. As Effie navigates her way through a year of admissions visits, senior class traditions, internal and external ableism, and a lot of firsts–and lasts–she starts to learn that sometimes growing up means being open to a world of possibilities you never even dreamed of.
And maybe being more than just friends with Wilder is one of those dreams.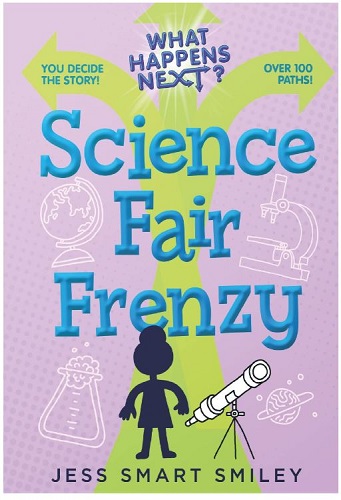 Releasing June 20, 2023
Megan Hathaway came to Sunbright Middle School's Science and Invention Fair expecting to have fun―she and her friend Charlotte had prepared a presentation on crow calls, and their table gave her a great view of her crush, Dillon. But for some reason, everything is going wrong.

There are lemons all over the hallways, Megan's parents insist on embarrassing her, and there are rumors that the monstrous Sunbright Muck Man is on the hunt!
Can YOU help Megan get through this day with her dignity and her life?! With over 25 different parallel realities to explore in Science Fair Frenzy, there's gotta be at least one where Megan gets a happy ending…right*?!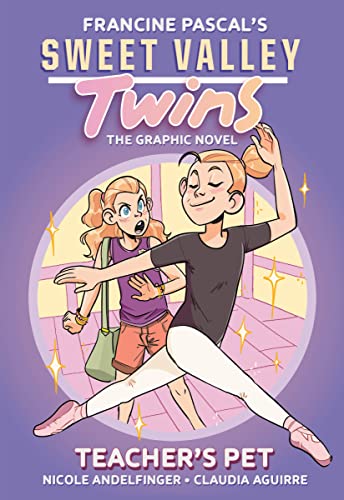 Releasing June 27, 2023
Jessica knows she's the better dancer – but their teacher only seems to have eyes for her sister Elizabeth!
No matter how hard or perfectly she dances she's not getting recognized – which becomes a huge problem when it becomes clear that her sister is going to get the main role of Swanilda instead of her.
Even worse, Elizabeth refuses to believe that their teacher is favoring her!
With Jessica's attitude rapidly souring and Elizabeth slowly realizing that Jessica might actually be right, will they be able to find a way to get Jessica her leading role?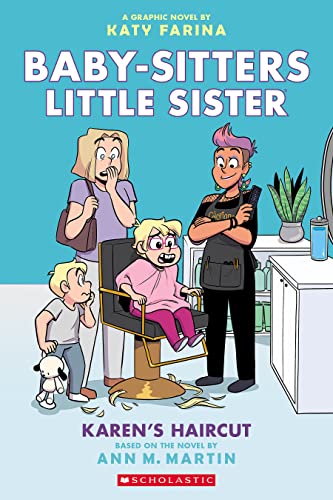 Releasing July 4, 2023
Karen feels like an ugly duckling. She already has to wear glasses, and now her baby teeth are starting to come out, too.
Fortunately, she knows exactly what will make her look glamorous — a new haircut.
But the beauty parlor lady cuts Karen's hair all wrong! Karen is devastated and worried about what the kids at school will say.
Can Karen get back to feeling like her usual confident self?
Releasing July 4, 2023
Dive into three new stories that are sure to fright and delight! Narwhal loves Halloween — it's a great excuse to dress up in a spooky and silly costume, like a ghost, a mermaid, a banana or maybe even Marlow the Mustachioed Moose.
It's a skeleTON of fun! Jelly isn't dressing up, though — he's a little scared of this time of year, and would prefer to hunker down in a hidey-hole until Halloween is over.
But when a scary sea monster makes an appearance and swallows Narwhal (gulp!), can Jelly, with the help of some super friends, pluck up the courage to save his best bud?
Releasing August 1, 2023
Maisie is on her way to Fancon! She's looking forward to meeting her idol, Kara Bufano, the action hero from her favorite TV show, who has a lower-leg amputation, just like Maisie.
But when Maisie and her mom arrive at the convention center, she is stopped in her tracks by Ollie, a cute volunteer working the show.
They are kind, charming, and geek out about nerd culture just as much as Maisie does. And as the day wears on, Maisie notices feelings for Ollie that she's never had before.
Is this what it feels like to fall in love?
Releasing August 22, 2023
There's a whisper in the shadows, a silent warrior. It's a ninja! The magic tree house has whisked Jack and Annie to ancient Japan.
They need to learn the secrets of the ninja in order to help their friend Morgan! But how do you find a warrior that hides in the shadows? You don't find a ninja . . . the ninja finds YOU!
Related: Magic Tree House Graphic Novels: The Ultimate Guide
Related Book Lists: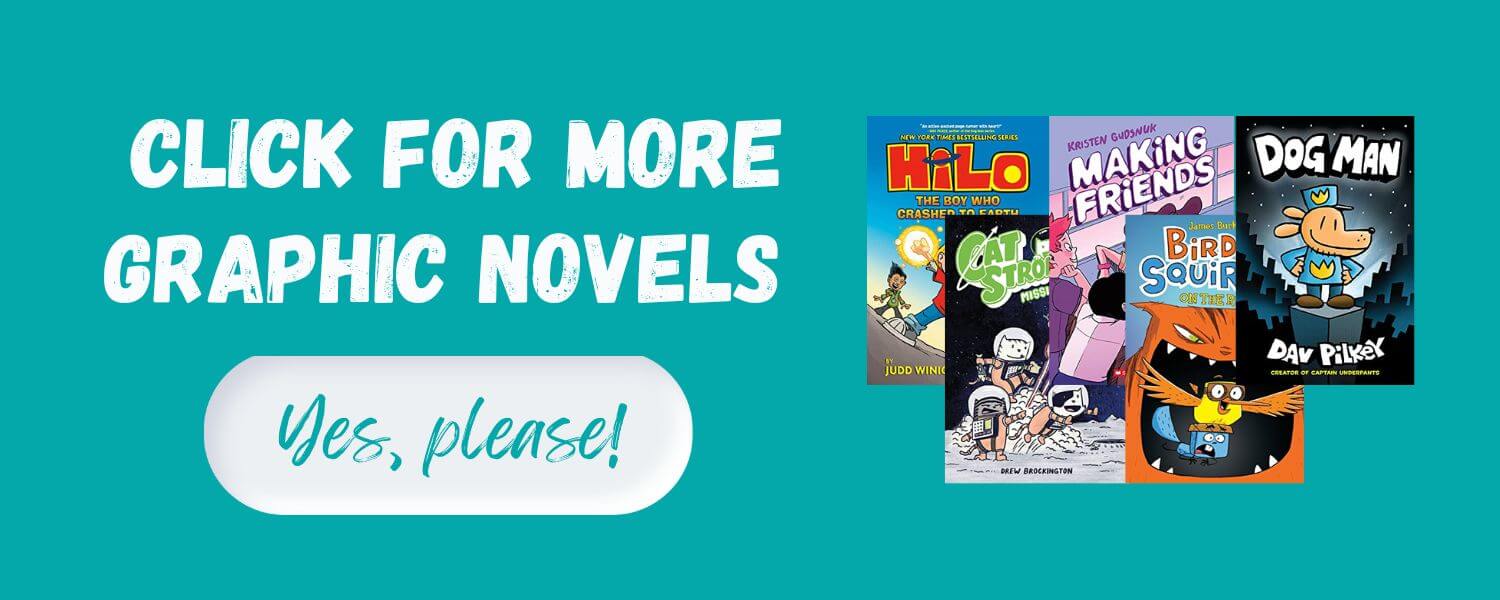 Pin This for Later: