Middle grade readers who love graphic novels about friendship and adventure and that are high on jokes will enjoy the Hilo books.
Check out this ultimate guide to the Hilo book series about a boy who mysteriously falls from the sky.
*Disclosure: I participate in the Amazon Affiliates program so if you click an affiliate link and make a purchase, I make a small commission at no extra cost to you.
What are the Hilo Books About?
The Hilo books are about a boy who falls out of the sky and befriends two kids on Earth. The team sets out to uncover Hilo's past and learn if anything else may soon fall from the sky!
Who Writes the Hilo Books?
Judd Winick is the author and illustrator of the Hilo graphic novel series. Parents may recognize Winick as a cast member of MTV's The Real World: San Francisco.
In addition to the Hilo book series, Winick has scripted issues of bestselling comic series, including Batman, Green Lantern, Green Arrow, Justice League, and Star Wars, and has also been head writer on the Hulu network's animated series, The Awesomes.
Who Would Enjoy Reading the Hilo Books?
Tween readers who love to read about super powers, friendships, action and adventure and jokes will enjoy the Hilo series.
Hilo Recommended Reading Level
Recommended Reading Ages: 8-12
Recommended Reading Grades: 3-7
How Many Hilo Books are There in the Series?
There are currently nine books in the Hilo series. After the first six books, the series began to focus on Gina in the lead role.
After the Gina-focused books, perhaps the series will continue with a few books focused on fellow friend D.J.
Hilo Books in Order:
Hilo Books in Order with Publisher's Description: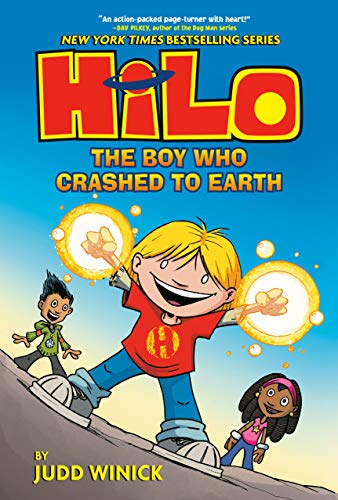 Hilo Book 1
BOOM! CLANG! CRASH! D.J. and Gina are totally ordinary kids. But Hilo isn't! Hilo just fell out of the sky and doesn't know where he came from, or what he's doing on Earth. (Or why going to school in only your underwear is a BAD idea!).
But UH-OH, what if Hilo wasn't the only thing to fall to our planet? Can the trio unlock the secrets of Hilo's past? Can Hilo survive a day at school?
Find out in HILO-a laugh-out-loud, epic story of friendship! Adventure! (And the occasionally mutant space robot).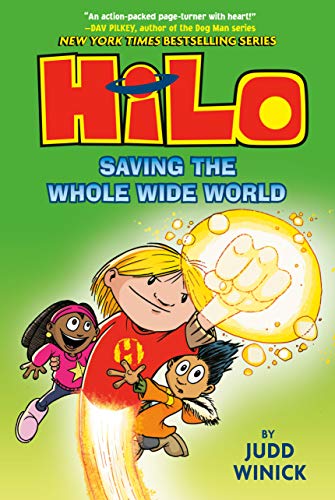 Hilo Book 2
Everyone's favorite space boy, Hilo, is just settling into life on earth (Bowling? Knock-knock jokes? OUTSTANDING!) when strange portals begin opening up all over town.
And HOLY MACKEREL! Even STRANGER creatures are coming through them! But it will take more than a GIANT MUTANT CHICKEN, A VIKING HIPPO, A MAGICAL WARRIOR CAT, or even a few MILLION KILLER VEGETABLES to stop Team Hilo . . . er, WON'T IT?
Can Hilo, DJ, and GINA figure out how to send these creatures back to their worlds before they DESTROY the earth?
Hilo Book 3
Aah!!!! Everyone's favorite space boy is BACK! Hilo may look like an ordinary kid, but he's DEFINITELY not!
When we last saw Hilo, DJ, and Gina, Gina had been sucked into a mysterious portal! But friends don't let friends disappear into NOWHERE!
It's up to D.J. and Hilo to follow her. Will there be danger? YES! Will there be amazing surprises? OF COURSE! Will Gina end up being the one to save them? DEFINITELY!
The trio will have to battle bad guys and face disgusting food, an angry mom, powerful magic, and more! Will they survive . . . and make it back to Earth before the portal closes again?!
Hilo Book 4
DJ and Gina are TOTALLY ordinary kids. But Hilo isn't! ALERT! ALERT! ALERT! Has our favorite space boy finally met his match? Not if D.J. and Gina can help it!
Mega Robot Monsters are suddenly waking up all over and they're TOO BIG and TOO STRONG for Hilo to fight on his own!
Luckily, he doesn't have to! He has GINA and some brand new SUPER POWERS on his side!
Being heroes can be super fun-but it can also be SUPER dangerous! And the closer Hilo and Gina get to saving their world from the monsters–the closer Hilo gets to the dark secret of his past.
Does he really want to know? Do WE?!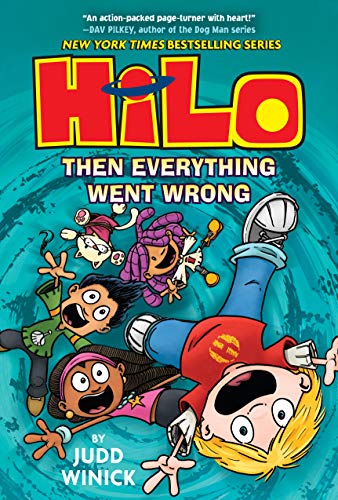 Hilo Book 5
MORE ACTION! MORE FUN! MORE LAUGHS! MORE ROBOTS! What REALLY happened in Hilo's world before he came to Earth?
D.J. and our favorite space boy, Hilo, take a DANGEROUS trip to Hilo's home planet to find out! But everything Hilo thinks he knows about his past is about to be turned inside out and UPSIDE DOWN!
Hilo was supposed to save everyone…but what happens if it's Hilo that needs saving?! Is ANYONE who we think they are?
Can Hilo and his friends figure out how all the pieces fit…before it's too late?!
Hilo Book 6
Being a hero isn't easy. But Hilo had no idea it would be this hard. Hilo came to earth because he was running from Razorwark. But he's done running.
Razorwark has come to earth. And the time has come for one final face to face showdown. What happens will decide the fate of the robot world . . . and Hilo's future.
The sacrifice will be great. But with Izzy's help, Hilo finally knows what he has to do. Because THIS is how all the pieces fit.
Hilo Book 7
Hundreds of years ago, MAGIC disappeared from Earth. At least…UNTIL NOW. Because suddenly, giant magical beings are appearing and only GINA can see them.
Not to mention, Gina can somehow do magic herself. Magic is powerful. But it can also be DANGEROUS.
With DJ and HILO's help, can Gina figure out how to protect the magical beings from the creatures who are after them? AND how to use her magic to become who she was always meant to be? And can she do it WITHOUT putting the entire PLANET in JEOPARDY?!
Find out in Hilo 7–a laugh-out-loud, action packed adventure filled with epic battles! friendship! annoying older brothers! annoying older sisters! good guys! bad guys! inappropriate jokes! mangoes! magic! and much, much more!
Hilo Book 8
There's a NEW Earth! The world's timeline has been turned upside down, and now magical creatures are EVERYWHERE. Gina has to fix things–FAST!

With DJ and HILO's help, can Gina find the key to turn the world back to what it was?
Find out in Hilo 8–a laugh-out-loud, action-packed adventure filled with epic battles! True friendship! Good jokes! Bad jokes! Giant (hilarious) monsters! Spoiled royals! Prophecies! Good! Evil! And much, much more!
Hilo Book 9
Sometimes the world needs to be saved and there's only one person brave enough to do it. This time . . . that person is Gina.
With the help of D.J., Hilo, one warrior cat, one warrior cat's annoying little brother, one flying Bearacat, lots of magic, lots of action, lots of laughs, and a whole world that believes in her, Gina is ready to save the world once and for all!

Prepare for a Hilo with more twists, more turns, more monsters, and more shocking surprises than ever before–because sometimes we all need to be reminded who we've always been.
Discover the Best Chapter Book Series for Tweens!
Related Book Lists: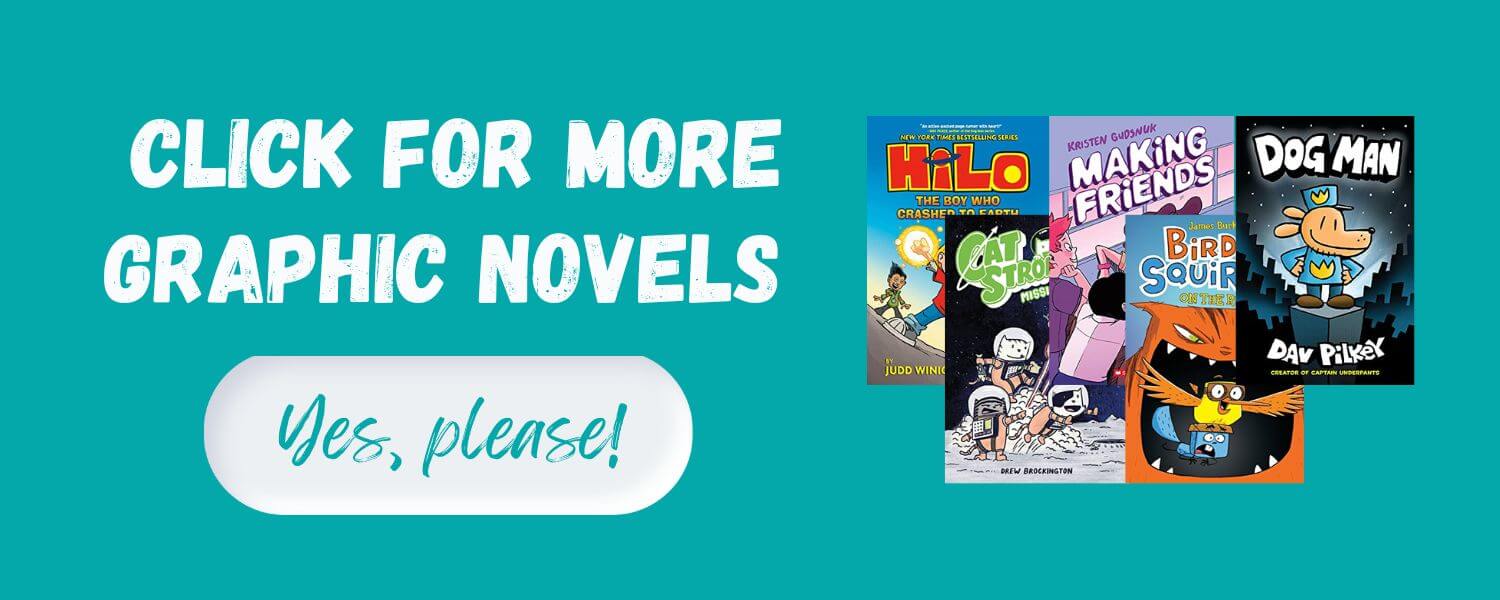 Pin This for Later: