If you have a reader who LOVES Dog Man then you'll want to check out all of these popular books like Dog Man to keep them reading (and laughing) for days!
Inspire your graphic novel reader with even more books like Dog Man that are high on humor and filled with animals and friends who fight crime and get into lots of crazy adventures.
Take it from my tween readers who love Dog Man and graphic novel series, you're going to get a kick out of these books. After you've read all the Dog Man books including Dav Pilkey's latest, check out these graphic novels (and series like Dog Man) below!
*Disclosure: I participate in the Amazon Affiliates program so if you click an affiliate link and make a purchase, I make a small commission at no extra cost to you.
The Best Books Like Dog Man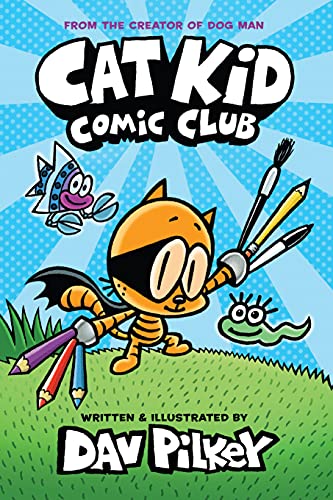 Naomi, Melvin, Pedro, and Poppy are just a few of the twenty-one rambunctious, funny, and talented baby frogs who share their stories in the Cat Kid Comic Club.
Can Li'l Petey, Molly, and Flippy help the students express themselves through comics? The adventures in class and on paper unwind with mishaps and hilarity as the creative baby frogs experience the mistakes and progress that come with practice and persistence.
"Squid Kid and Katydid," "Baby Frog Squad," "Monster Cheese Sandwich," "Birds Flowers Trees: A Haiku Photo Comic," and other mini-comics are featured as stories-within-the-story, each done in a different style, utilizing humor and drama, prose and poetry, illustrated in different media including acrylics, pastels, colored pencils, felt-tip markers, clay, hand-made cardboard sculptures, photographs, pipe cleaners, construction paper collages, and cookies.
This heartfelt, humorous, and thoughtful graphic novel by award-winning author and artist Dav Pilkey will have readers of all ages laughing and motivated to unleash their own creativity.
Related: Cat Kid Comic Club Books in Order: The Complete Guide
Crime doesn't pay in Caper Cove with Officer Clawsome and his partner, Stariana, on the case. Just ask the notorious Catburglarfish—she'll confirm.
But when the beloved bakery Kelpy's Kelpcakes goes missing and rumors begin swirling about shark sightings for the first time in a hundred years, the duo is about to find themselves claw-deep in a mystery for the ages.
Will this dynamic duo save the day yet again, or have the citizens of Caper Cove eaten their last Kelpcake…for good?
Related: New Graphic Novels for Tweens Coming in 2023
The Super-Secret Spy Service's mission is to keep the world safe from maniacal villains. And Agent 9 is one of its best operatives.
Although Nine always manages to complete the mission, there is occasionally some collateral damage (like the priceless Pigasso painting that was destroyed while foiling an art heist). So Agent 9 is now on probation.

But when bumbling supervillain King Crab manages to overtake S4 head­quarters, there is no one else to turn to. Nine—along with a robotic partner named FiN—is all that stands between King Crab and his diabolical plans to melt the polar ice caps and build a massive water park. Can Agent 9 prove to be the right cat for the job by overcoming impulsive behavior and saving the world from a complete flood-a-geddon?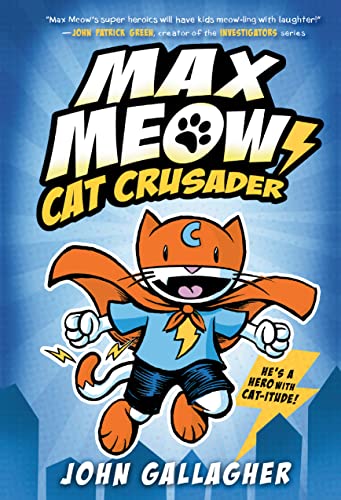 Max is just a regular cat in Kittyopolis, trying to make it big as a podcaster until he accidentally takes a bite of an radioactive space meatball at his best friend Mindy's secret lab. Then before you can say MEOWZA, Max becomes…The CAT CRUSADER!
Being a super hero is fun–but not if you get so cocky, you forget your best friend! Will Max and Mindy make up? And together, can they save Kittyopolis from the evil Agent M and BIG BOSS?! Find out in this furr-ociously funny series! BONUS: Includes how to draw Max Meow!
Related: Max Meow Series Books in Order
What do REAL PIGEONS do? They fight crime, of course! Wait, what? You didn't know your town is protected by a secret squad of crime-fighting feathered friends? Well, you are about to get schooled.
REAL PIGEONS solve mysteries! REAL PIGEONS fight bad guys! And REAL PIGEONS won't stop until your neighborhood is safe and the questions are all answered: Like, why have all the breadcrumbs disappeared? And which food truck smells the best?
Mischief and her side-cat Mayhem are your respectably heinous villains. They'll spoil new movies, steal cake from parties they weren't invited to, and hit the good citizens where it'll dirty them most—their toilet paper.
But before Mischief and Mayhem were ever supervillains, they were just Missy and Gizmo, fresh recruits at superhero boot camp.
Except Missy lied on her hero application and has exactly zero superpowers, just her brainpower. Humiliated when caught and kicked out, she has only one fellow camp recruit who is willing to stand by her—Melvira.
Unbeknownst to others, Melvira has her own villainous agenda, and it involves helping Missy cross the line into villainy as a new alter ego, Mischief.
Something about Melvira doesn't sit right with Missy, and soon she'll be called upon to battle her former best friend…but will Missy be able to face the friend who was once her defender?
Something terrible is happening in the skies! Rats are eating the MOON!
There's only ONE hero for the job, a bold and fearsome beast bioengineered in a secret lab to be the moon's savior and Earth's last hope! And that hero is . . . a cat. A cat who will be blasted into space!
Accompanied by the imperious Moon Queen and LOZ 4000, a toenail clipping robot, the First Cat in Space journeys across a fantastic lunar landscape in a quest to save the world.
Will these unlikely heroes save the moon in time? Can a toenail-clipping robot find its purpose in the vast universe? And will the First Cat in Space ever eat some pizza?
Sparks is a hero and man's best friend, but nobody suspects he's two cats!
This Super Dog is the Cat's Meow! August is a brilliant inventor who is afraid of the outside. Charlie is a crack pilot who isn't afraid of anything.
Together these pals save lives every day. They also happen to be cats who pilot a powerful, mechanical dog suit! Always eager to leap into danger, this feline duo have their work cut out for them as they try to thwart Princess, an evil alien bent on enslaving mankind.
Don't let the fact that Princess looks like a cute, diaper-wearing baby fool you. She's clever, determined, and totally ruthless. So when Princess and the browbeaten fools she calls servants enact a brilliant and dastardly plan to conquer Earth, August and Charlie pull out all the stops to save the day.
Woolfrik and Perigold are two down-on-their-luck kittens in need of some extra cash, so they've decided to become professional monster slayers. Except they don't know the first thing about it!
So when a huge beast starts rampaging through town, they are put to the ultimate test. Fortunately, the duo accidentally awakens a ghost named Earl Mortimore, who is the last not-so-living member of an ancient guild of warriors, and he's going to teach them everything he knows.

But the monster is just the beginning of their worries, because someone even more troublesome is pulling its strings. So even though they've never been in a battle–or even gone on a real quest before–it's up to these kittens to save the day and prove they've got what it takes to be heroes.
MANGO and BRASH are the INVESTIGATORS: Sewer-loving agents of S.U.I.T.* and scourge of supervillains everywhere!

With their Very Exciting Spy Technology and their tried-and-true, toilet-based travel techniques, the InvestiGators are undercover and on the case! And on their first mission together, they have not one but two mysteries to solve!
Can Mango and Brash uncover the clues, crack their cases, and corral the crooks—or will the criminals wriggle out of their grasp?
Serving justice . . . and lunch!

Hector, Terrence, and Dee have always wondered about their school lunch lady. What does she do when she isn't dishing out the daily special? Where does she live? Does she have a lot of cats at home?
Little do they know, Lunch Lady doesn't just serve sloppy joes—she serves justice! Whatever danger lies ahead, it's no match for LUNCH LADY!
The great detective Banana Fox is called back to duty to find a missing turtle. But the deeper he digs, the more he discovers, and it's worse than he thought! The Secret Sour Society is back, and they're mixing up a bunch of trouble. Can Banana Fox and his sidekick, Flashlight, put an end to the Secret Sour Society once and for all?
Ham Helsing is the descendant of a long line of adventurers and monster hunters–who don't often live to rest on their laurels. Ham has always been the odd pig out, preferring to paint or write poetry instead of inventing dangerous (dumb) new ways to catch dangerous creatures.

His brother Chad was the daredevil carrying on the family legacy of leaping before looking, but after his death, it's down to Ham. Reluctantly, he sets out on his first assignment, to hunt a vampire. But Ham soon learns that people aren't always what they seem and that you need a good team around you to help save your bacon!
Something fishy is going on at the South Shore. Folks just disappear and are never seen again. But when Agent Moose learns that a key witness has gone missing, he and Owlfred ride to the rescue. Will they find the missing turtle before time runs out?
Meet the Hound Heroes: fearless Captain Chihuahua, the big-hearted Great, Great Dane, super-speedy Poodle Girl, cyborg pup Power Pug, and the lovable yet irritating Super Sheep Dog. Together they make up a crack team of earth's furriest heroes!
In this first adventure, the Hound Heroes' origin story is revealed when a spaceship crashes in their backyard, giving them superpowers! But they aren't the only ones who benefit — neighborhood alley cat The Claw also gains powers, and she only wants one thing: to destroy the Hound Heroes!
Raised from a kitten by a kindly old ninja master, Claude now spends his days as the pampered house cat of an eleven-year-old boy. But when trouble arises, Claude dons his mask and springs into action as Cat Ninja—Metro City's secret protector!
In Book 1 of the series, follow our feline hero's early exploits as he tries to keep his secret identity under wraps while thwarting the evil plans of slimy crooks, rampaging robots, and a certain rodent nemesis who lives under the same roof!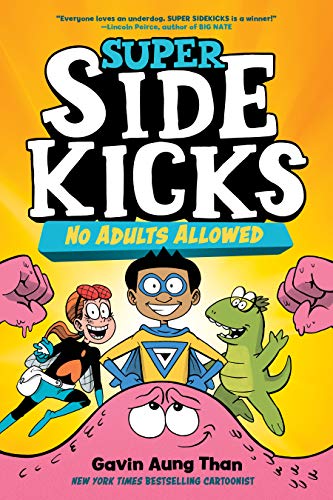 Superheroes have it soooo easy. They don't have to clean their secret headquarters, wash alien bloodstains out of their costumes, or walk Super Mutt. NO! They leave that for their sidekicks, while they get all the credit.

Well, Junior Justice, aka J.J., has had ENOUGH! He thinks it's time the sidekicks made a team of their own. Dinomite and Flygirl are ready to join the team, but first they have to prove to the adult superheroes that they're more than just sidekicks. And once the evil Dr Enok discovers his favorite pet Goo has left him, the world might need saving sooner rather than later.
It's Saturday, the best morning of the week when a scream interrupts the perfect day for learning about butterflies. Mili the guppy is… missing! But have no fear, P.I. Butterfly is on the case. She'll stop at nothing to solve the mystery.
P.I. Butterfly preserves the scene, records every clue, and interviews suspicious suspects, but she ends up on a trail to nowhere fast. As she drowns her sorrows in a glass of milk, a fishy finding leads to a new suspect and… a cat-felt confession.

Did Mili survive her fish-bowl fiasco, or is she gone for good? P.I.B. won't stop until she flutters to the truth, no matter where it leads.
Meet Ace and Bub, the flying beaver brothers! Ace loves extreme sports and is always looking for a new adventure. Bub loves napping and, well, napping. But when penguins threaten to freeze Beaver Island for "resort and polar-style living," the brothers put their talents to work saving their tropical island paradise.
Can they save Beaver Island from environmental destruction? And can they do it in time to still win the annual Beaver Island Surfing Competition?
Ben Ripley is a middle schooler whose school is not exactly average—he's spent the last year training to be a top-level spy and dodging all sorts of associated danger.
So now that summer's finally here, Ben would like to have some fun and relax. But that's not going to happen during required spy survival training at a rustic wilderness camp, where SPYDER, an enemy spy organization, has infiltrated the spies' ranks.
Can Ben root out the enemy before it takes him out—for good?
CatStronauts, you are needed! When the world is thrust into darkness due to a global energy shortage, the World's Best Scientist comes up with a bold plan to set up a solar power plant on the moon.
But someone has to go up there to set it up, and that adventure falls to the CatStronauts, the best space cats on the planet!
Meet the fearless commander Major Meowser, brave-but-hungry pilot Waffles, genius technician and inventor Blanket, and quick-thinking science officer Pom Pom on their most important mission yet!
Related: Catstronauts Books in Order: The Complete Guide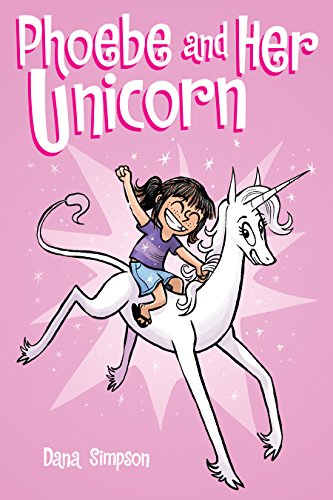 A boy and his dog . . . a girl and her . . . unicorn?

It all started when a girl named Phoebe skipped a rock across a pond and accidentally hit a unicorn in the face.
Improbably, this led to Phoebe being granted one wish, and she used it to make the unicorn, Marigold Heavenly Nostrils, her obligational best friend.
But can a vain mythical beast and a nine-year-old daydreamer really forge a connection? Indeed they can, and that's how Phoebe and Her Unicorn unfolds.
Related: Phoebe and Her Unicorn Books Complete Guide
Mr. Wolf has just started teaching at Hazelwood Elementary. He wants the first day of school to go well, but he's got his hands full with his new Class.
Some of his students include: Margot, who is new in town and is trying to make friends. Sampson, who brought something special to school for show-and-tell. Aziza, who just wants everyone to be quiet and do their work.
And Penny, who is VERY sleepy because she has a new baby brother at home, goes missing! This delightful new series captures the everyday — and unexpected — ups and downs of a fourth-grade Classroom.
Related: Mr. Wolf's Class Books in Order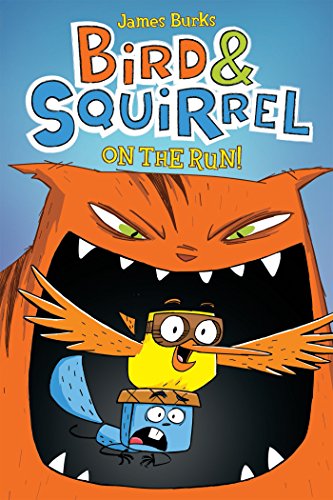 Squirrel is afraid of his own shadow. Bird doesn't have a care in the world. And Cat wants to eat Bird and Squirrel. Of course, he'll have to catch them first, and that's not going to be easy.
Join this trio as they head south for the winter in a hilarious road trip. But watch out! Cat is waiting around every bend, and he's one pesky feline.
Related: Bird & Squirrel Books in Order Guide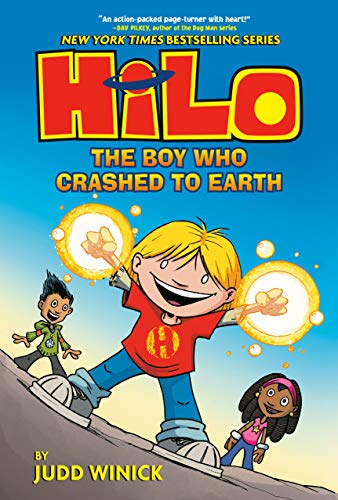 BOOM! CLANG! CRASH! D.J. and Gina are totally ordinary kids. But Hilo isn't! Hilo just fell out of the sky and doesn't know where he came from, or what he's doing on Earth. (Or why going to school in only your underwear is a BAD idea!).
But UH-OH, what if Hilo wasn't the only thing to fall to our planet? Can the trio unlock the secrets of Hilo's past? Can Hilo survive a day at school?
Find out in HILO-a laugh-out-loud, epic story of friendship! Adventure! (And the occasionally mutant space robot).
Related: Hilo Books in Order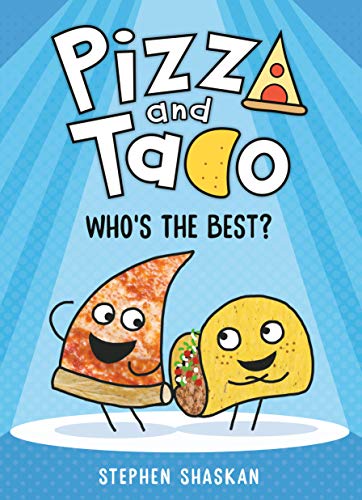 Best friends are the best! But who is the best? Is it Pizza or Taco? The question is debatable! They both love water slides. They both are friends with Hot Dog and Hamburger. In fact, maybe they should have a debate and get their friends to vote for who's the best!
Can their friendship survive the race for top spot on the popularity food chain? Cast your vote!
Related: Pizza and Taco Books in Order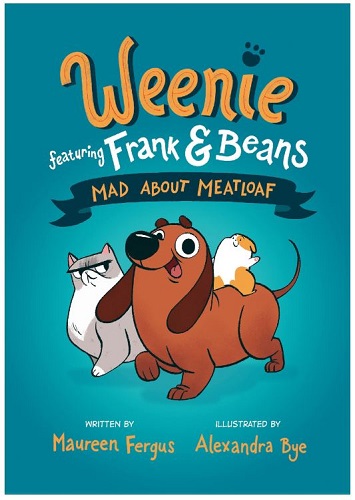 Weenie loves his human, Bob. He loves his guinea pig friend, Beans, and his cat friend, Frank. He loves naps, adventures and sharing. In fact, Weenie loves pretty much everything (except the mail carrier).

But the thing Weenie loves and desires more than anything else in the world is meatloaf. And he'll do anything to get it.

Join Weenie, Frank and Beans on a laugh-out-loud meatloaf adventure, complete with a trench coat disguise, a wild meatloaf trap and even a hungry wolf.
Meet Baloney! He's the star of this book, along with his best buddies: empathetic Peanut the horse, sensible Bizz the bumblebee, and grumpy Krabbit—he'd rather not be here, but what can you do?

In this graphic novel for newly independent readers, Baloney and friends step into the spotlight and embody all the charm of childhood in three short tales and three mini-comics that invite readers to join the fun! Giggle with Baloney as he performs some questionable magic, give him a boost when a case of the blues gets him down, cheer him on as he braves the swimming pool, and at the end, learn to draw all the characters with clear step-by-step instructions!
Narwhal is a happy-go-lucky narwhal. Jelly is a no-nonsense jellyfish. The two might not have a lot in common, but they do they love waffles, parties and adventures. Join Narwhal and Jelly as they discover the whole wide ocean together.
A wonderfully silly early graphic novel series featuring three stories. In the first, Jelly learns that Narwhal is a really good friend. Then Narwhal and Jelly form their own pod of awesomeness with their ocean friends. And finally, Narwhal and Jelly read the best book ever — even though it doesn't have any words…or pictures!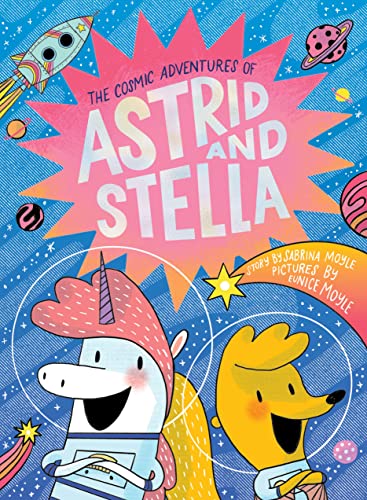 Meet Astrid and Stella! These best friends are ready to fire up the turbo blasters and take off into the stratosphere! They'll just need a few things before it's time to go: their special space suits, lots and lots of snacks, and their trusty robot Bobo.
When things go sideways, Astrid and Stella always rely on their go-to mottos to get them out of sticky situations: "We can do hard things!" and "Progress not perfection!"
  
In their very first adventure, Astrid and Stella will discover the cute and cuddly planet Caturn and the beach-covered planet Bloop. At each stop, they'll meet new pals, solve friendship conundrums, and stop one evil tyrant—with lots of dance breaks and snack attacks along the way. It's all in a lightyear's work for these intergalactic pals!
Related: Astrid and Stella Books in Order
Like all peas, Pea loves to roll. So when a no-good strawberry dares him to roll all the way off the farm, he swears he can do it—eazy me-zee!
But along the way, a powerful thunderstorm strikes and bounces Pea off course…and right into two unlikely new buds: a bee named Bee who thinks she knows it all, and a bird named Jay who can't figure out how to fly.
On their own they may not look like much, but if this trio can stick together, they just might help Pea find his way back home!
He's blue, he's a bit of a grouch, and his best friend is a dim-witted cat named Blurmp who can see the bright side of anything.
From pizza and computers, to love and happiness, this crabby tabby has a funny take on just about everything, and he's not afraid to share it. This collection of short comic stories will make even the grumpiest of grouches crack up and is not to be missed!
Binky's blast-off into outer space (outside) to battle aliens (bugs) is delayed when he realizes he's left something behind – and it's not the anti-gravity kitty litter.
His grandpa invented fire. His dad invented the wheel. How will Caveboy Dave leave his mark?

Dave Unga-Bunga has always been more scrawny than brawny. This is a major problem when your village expects you to become a meat-bringer.
At age twelve, all young cave-people must stalk through the eerie mushroom forests for a prehistoric beast the village can feast on. But Dave would much rather invent stuff for a better life—like underwear to make loincloths less itchy and cutlery to make eating less filthy.
Can Dave save his group by inventing the perfect defense against a bloodthirsty pokeyhorn? Or will he MEET HIS DOOM?
Lucy and Andy are a sister and brother who get into trouble much like any sister and brother. Only difference? Lucy and Andy live in the Stone Age!
Discover their laugh-out-loud adventures as the Paleo pair take on a wandering baby sibling, bossy teens, cave paintings, and a mammoth hunt. But what will happen when they encounter a group of humans?
Don't Miss the Dog Man Books in Order!
Don't miss our book list of all the Dog Man Books in order so you don't miss a single book! Be sure to also celebrate Dog Man Day!
Related Book Lists:
Discover the Best Chapter Book Series for Tweens!
Pin This for Later: