Middle grade fans of graphic novels and books about middle school will devour the Nat Enough series by Maria Scrivan.
Discover all the Nat Enough series books in order plus frequently asked questions in this epic guide so you never miss a book in this popular series for tween readers.
*Disclosure: I participate in the Amazon Affiliates program so if you click an affiliate link and make a purchase, I make a small commission at no extra cost to you.
Nat Enough Series Books in Order:
Nat Enough Series Books in Order With Publisher Descriptions: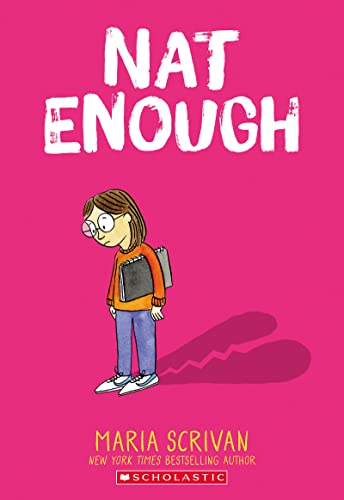 Nat Enough Series Book 1
Making friends isn't easy, but losing them is even harder! Natalie has never felt that she's enough — athletic enough, stylish enough, or talented enough.
And on the first day of middle school, Natalie discovers that things are worse than she thought — now she's not even cool enough for her best friend, Lily!
As Natalie tries to get her best friend back, she learns more about her true self and natural talents. If Natalie can focus on who she is rather than who she isn't, then she might realize she's more than enough, just the way she is.
Nat Enough Series Book 2
It's called a crush for a reason…For the first time in her life, Natalie feels confident. Her talents are being recognized, she has supportive friends, and she's spending a ton of time with her crush, Derek!
But when Derek tells Natalie that he just wants to be friends, Natalie's self-confidence quickly changes to self-doubt.
As she tries to recover from her broken heart, Natalie casts aside her talents and even her friends. With no one to turn to, Natalie will have to pull herself out of this mess on her own.
Nat Enough Series Book 3
You can stay stuck or go forward, but you can't go back.
Natalie has just arrived at summer camp and soon realizes it isn't anything like the brochure. Instead of spending the summer with her best friends, Zoe and Flo, Natalie is stuck with her ex-BFF, Lily, and someone even more annoying than the endless mosquitoes: Millie Flatbottom.
Even worse, she's constantly pushed out of her comfort zone and forced to come face-to-face with some of her greatest fears.
Although summer camp isn't at all what Natalie expected, could it be exactly what she needs?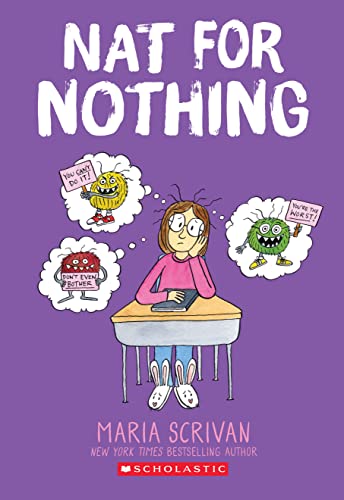 Nat Enough Series Book 4
It's a best friend battle!
Natalie is having a rough start to the school year. Each student has been asked to join an extracurricular activity, and Nat's two best friends have no trouble finding activities that interest them.
Flo tries her hand at puppetry, and Zoe makes the volleyball team… with Nat's ex-BFF, Lily! So now Zoe and Lily are always together, and Nat is over it!
Nat's feeling betrayed, and she still hasn't found a club to join. But when Nat meets a new student who's having the same difficulty choosing a club, they decide to create one together. Could this be the solution to her problems?
Nat Enough Series Book 5
Releasing March 5, 2024
Nat's class trip is a bigger adventure than she imagined! Nat is on an overnight class trip to Philadelphia, which is her first time in a big city without her parents.
And it's a big deal because Nat's mom and dad are finally giving her the independence she's been longing for.
But the trip is off to a bad start — with one disaster after another — and if things keep up, Nat's on track to lose her parents' trust and her newfound freedom for good!
Frequently Asked Questions About the Nat Enough Series:
Who is the Author of the Nat Enough Series?
Maria Scrivan is the author of the Nat Enough series. She is an award-winning syndicated cartoonist and New York Times bestselling author.
What is the Nat Enough Series About?
The Nat Enough series follows Natalie as she enters middle school and how she confronts self-confidence, problems with friends, first crushes and more.
How Many Books are in the Nat Enough Series?
There are currently four books in the Nat Enough series with a fifth book set to release in 2024..
Who Would Enjoy the Nat Enough Series?
Any tween reader or reader of middle grade books who loves graphic novels, and stories about kids in middle school, best friends and getting out of your comfort zone will enjoy the Nat Enough series.
What is the Recommended Reading Level for the Nat Enough Series?
Nat Enough Series Recommended Reading Age: 8-12
Nat Enough Series Recommended Reading Grades: 3-7
Related Book Lists:
Discover the Best Chapter Book Series for Tweens!
Pin This for Later: