Get excited because I have the ultimate guide to all the Dog Man books in order so that you don't miss a single thing about this epic graphic novel series by Dav Pilkey.
My tween readers cannot get enough of this hilarious series and your reader will enjoy it too!
*Disclosure: I participate in the Amazon Affiliates program so if you click an affiliate link and make a purchase, I make a small commission at no extra cost to you.
I wouldn't be lying when I say that Dav Pilkey's Dog Man books are my tween readers' absolute FAVORITE graphic novel series.
They have read and reread these books over and over again because they cannot get enough of the shenanigans that Dog Man, Petey, and Little Petey get into time and time again. Check out all the Dog Man Books in Order below then visit our list of books like Dog Man for more!
We also have some frequently asked questions about the Dog Man books, Dog Man author and Dog Man extras below so don't miss out.
Dog Man Books in Order:
Additional Dog Man Books:
Dog Man Extras:
Dog Man Puzzles
Dog Man Games
Dog Man Books in Order with Publisher Descriptions:
Publisher's Description:
George and Harold have created a new breed of justice. With the head of a dog and the body of a human, this heroic hound digs into deception, claws after crooks, rolls over robbers, and scampers after squirrels.
Will he be able to resist the call of the wild to answer the call of duty?
Publisher's Description:
Dog Man is still learning a few tricks of the trade. Petey the Cat is out of the bag, and his criminal curiosity is taking the city by storm.
Something fishy is going on! Can Dog Man unleash justice on this ruffian in time to save the city, or will Petey get away with the purr-fect crime?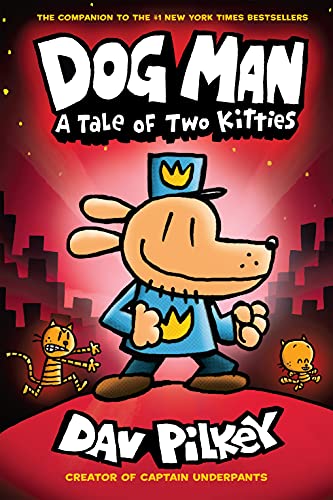 Publisher's Description:
He was the best of dogs… He was the worst of dogs… It was the age of invention… It was the season of surprise… It was the eve of supa sadness… It was the dawn of hope…
Dog Man hasn't always been a paws-itive addition to the police force. While he can muzzle miscreants, he tends to leave a slick of slobber in his wake!
This time, Petey the Cat's dragged in a tiny bit of trouble — a double in the form of a kitten clone. Dog Man will have to work twice as hard to bust these furballs and remain top dog!
Publisher's Description:
Hot diggity dog! Dog Man is back — and this time he's not alone. The heroic hound with a real nose for justice now has a furry feline sidekick, and together they have a mystery to sniff out!
When a new kitty sitter arrives and a glamorous movie starlet goes missing, it's up to Dog Man and Cat Kid to save the day!
Will these heroes stay hot on the trail, or will Petey, the World's Most Evil Cat, send them barking up the wrong tree?
Publisher's Description:
When a fresh bunch of baddies bust up the town, Dog Man is called into action — and this time he isn't alone.
With a cute kitten and a remarkable robot by his side, our heroes must save the day by joining forces with an unlikely ally: Petey, the World's Most Evil Cat. But can the villainous Petey avoid vengeance and venture into virtue?
Publisher's Description:
Is Dog Man bad to the bone? The canine cop is sent to the pound for a crime he didn't commit!
While his pals work to prove his innocence, Dog Man struggles to find his place among dogs and people. Being a part of both worlds, will he ever fully fit in with one?
Publisher's Description:
The Supa Buddies have been working hard to help Dog Man overcome his bad habits. But when his obsessions turn to fears, Dog Man finds himself the target of an all-new supervillain!
Meanwhile, Petey the Cat has been released from jail and starts a new life with Li'l Petey. But when Petey's own father arrives, Petey must face his past and fight for who he loves.
Publisher's Description:
Petey the Cat is out of jail, and he has a brand-new lease on life. While Petey's reevaluated what matters most, Li'l Petey is struggling to find the good in the world.
Can Petey and Dog Man stop fighting like cats and dogs long enough to put their paws together and work as a team? They need each other now more than ever — Li'l Petey (and the world) is counting on them!
Publisher's Description:
Dog Man's really done it this time! He hands over his badge and clears out his desk, but while he may be out of a job, he's not yet out of hope.
With his friends at his side, can Dog Man dig himself out of this hole and paw his way back onto the force?
Publisher's Description:
Dog Man is down on his luck, Petey confronts his not so purr-fect past, and Grampa is up to no good.
The world is spinning out of control as new villains spill into town. Everything seems dark and full of despair. But hope is not lost. Can the incredible power of love save the day?
Publisher's Description:
Piggy is back, and his newest plot is his most diabolical yet. Dog Man and the rest of your favorite characters must join together in this heroic and hilarious, ALL NEW adventure.
WHAT new villains are on the horizon? WHERE are they all coming from? And WHO will step forward to save the city when scoundrels sabotage our Supa Buddies? Find out in DOG MAN #11 — there's so much more than ever before — it's EPIC!
Related: New Graphic Novels for Tweens Releasing in 2023
Publisher's Description:
P.U.! Dog Man got sprayed by a skunk! After being dunked in tomato juice, the stink is gone but the scarlet red color remains. Now exiled, this spunky superhero must struggle to save the citizens who shunned him!
Will the ends justify the means for Petey, who's reluctantly pulled back into a life of crime in order to help Dog Man? And who will step forward when an all-new, never-before-seen villain unleashes an army of A.I. robots?
Additional Dog Man Books: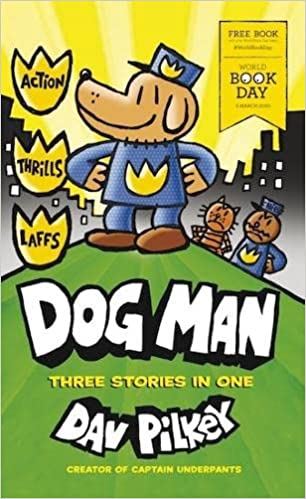 Publisher's Description:
KABLOOEY! It's A BRILLIANT new DOG MAN book for World Book Day 2020 packed with three hilarious stories.
Read about Dog Man avoiding a bath at all costs, plus foiling a bank robbery and a plot to turn everyone into zombies, in this action-packed, fully illustrated, laugh-out-loud book!
Publisher's Description:
Celebrate the 25th and a half anniversary of THE ADVENTURES OF CAPTAIN UNDERPANTS with a special edition featuring a BRAND NEW 32-page DOG MAN comic!
George and Harold are best friends who enjoy making their own comic books. Together they've created the greatest superhero in the history of their elementary school: Captain Underpants!
His true identity is SO secret, even HE doesn't know who he is! Tra-la-laaaaa! It's can't-miss fun!
After the Captain Underpants adventure, join George and Harold as they share their never-before-seen 32-page bonus comics: Captain Underpants Meets Dog Man and Dog Man and the League of Misfits.
Dog Man Extras: Games & Puzzles
Discover the Best Chapter Book Series for Tweens!
Frequently Asked Questions About the Dog Man Books:
What are the Dog Man Books About?
Dog Man is a superhero created by best friends George and Harold of Dav Pilkey's Captain Underpants series.
But Dog Man is not just any superhero. He actually has the head of a dog and the body of a police officer after experimental surgery in an attempt to save both their lives.
Now Dog Man assists the police force to capture bad guys – including the nefarious Petey the cat.
Who Will Enjoy the Dog Man Books?
I honestly think every kid will enjoy the Dog Man books!
My son started "reading" them before he could even read as the pictures are wonderful and tell the story in an of themselves.
As tweens they continue to enjoy each new Dog Man book that is released so keep them coming Dav Pilkey!
Tween readers who enjoy humor, animal shenanigans, puns, fart jokes and fun adventures will enjoy the Dog Man series.
Parents will love the Dog Man books because they explore positive themes including empathy, kindness, persistence, and the importance of being true to one's self.
Once you read all the Dog Man books, be sure to check out our list of books like Dog Man!
What is the Dog Man Books Recommended Reading Level?
Dog Man Books Reading Level: 6-9
Dog Man Recommended Grades: 2-3
Who Wrote the Dog Man Books?
I am such an admirer of Dav Pilkey (pronounced "Dave"). He has captured not only my tween readers but so many young readers across the globe with his Captain Underpants series, Dog Man series and his new Cat Kid Comic Club series.
I won't hold it against him to use potty humor and the like to engage readers because they are hooked from book one and LOVE to read.
Dav Pilkey's story is an inspiration to young readers as well. He was often removed from his classroom and sent into the hallway for disrupting class.
His books about kids with ADHD and how they thrive because of it is wonderful for all to hear and read.
Meeting Dav Pilkey!
Not only does Dav Pilkey write great books but he's a great person in person!
We had the chance to meet him in 2017 at Jeff Kinney's book store, An Unlikely Story, where he talked to kids about creating the Dog Man series, walked them through how to draw the main characters, and signed books.
He even took the time to look at my kiddo's own comic books that they wrote.
What is the Next Dog Man Book?
New Dog Man Book Coming in 2023!
I am so excited that another new Dog Man book is headed our way!
I thought for sure book ten would be the last in the series but alas, book eleven, Dog Man: Twenty Thousand Fleas Under the Sea, will be released on March 28, 2023 on Dog Man Day.
Who Can Join Dav Pilkey's Epic Comic Club?
After reading all of the Dog Man books in this epic series and hop over to join Dav Pilkey's Epic Comic Club!
There, readers can:
Download your very own membership card
Create the "comic of the month" (free printable with prompt and comic blocks)
Submit your own comics
Collect the comic club's badge of the month
View others' comics
Learn how to draw
It really is epic!
Is There a Dog Man Movie?!
Get ready because a Dog Man movie is in development with DreamWorks Animation! Stay tuned for this epic adventure to come to the big screen.
Related Books Lists: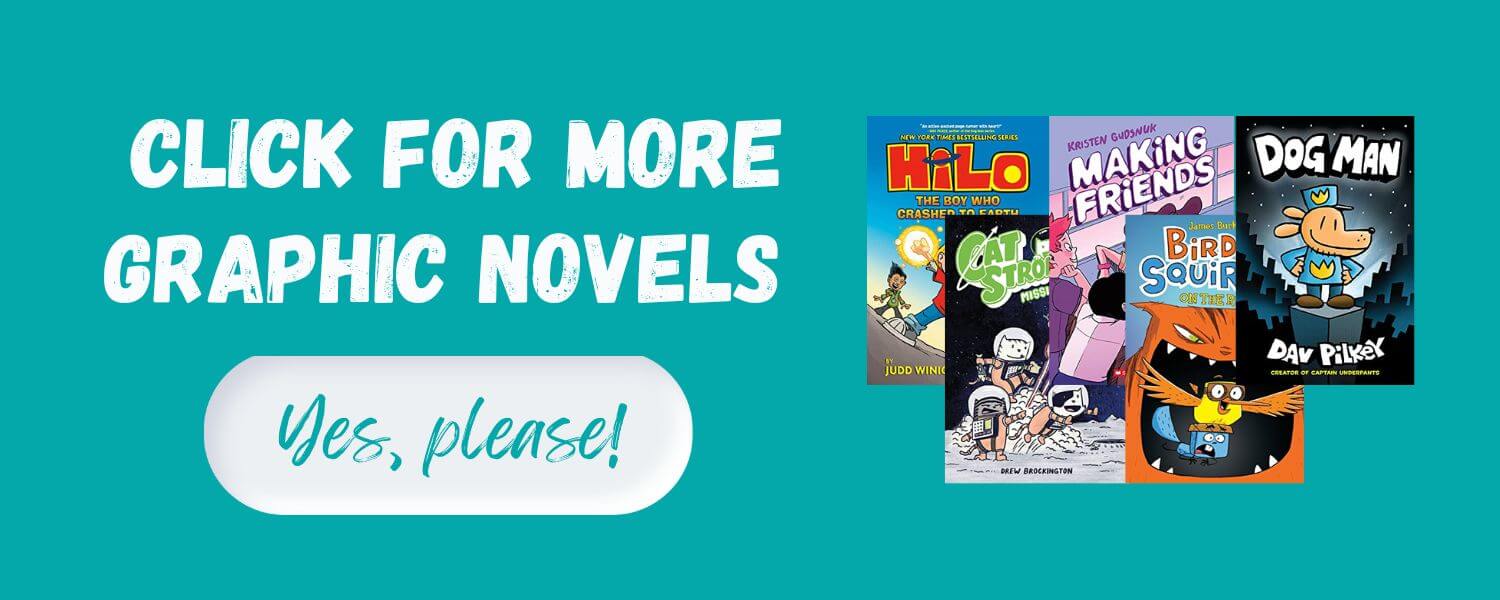 Pin this for Later: