Don't miss this book list of the best books for tween boys! Whether you have a tween reader looking for new titles or are hoping to get a child interested in reading, these are the books for tween boys to start with!
*Disclosure: I participate in the Amazon Affiliates program so if you click an affiliate link and make a purchase, I make a small commission at no extra cost to you.
I honestly think I'll continually be adding to this list of books for tween boys because there are just so many that my son (and I!) have enjoyed.
The best books for tween boys offer so much variety that no matter what your tween reader is interested in, he's sure to find something he'll like on this list.
My tween son enjoys graphic novels that are high on humor just as much as he loves nonfiction chapter books that are filled with adventure.
He's a kid who loves sports so books about athletes are a plus but he'll just as soon read a fantasy book series as well.
Getting tween boys hooked on reading at this age will make them readers for life.
To help in this quest, we're sharing our favorite books for tween boys that they won't be able to put down.
Check them out below and then be sure to share your favorite books for tween boys in the comments.
Don't miss our book list of the best books for tween girls too!
Happy reading!
Leslie
The Best Books for Tween Boys You Can't Miss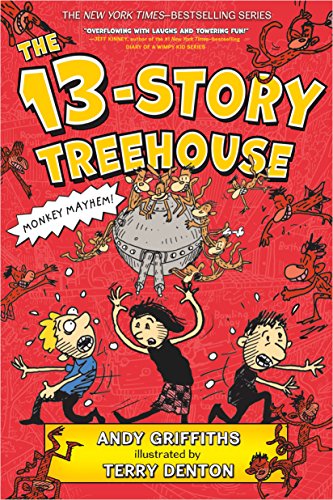 Andy and Terry live in a treehouse. But it's not just any old treehouse, it's the most amazing treehouse in the world!

This treehouse has thirteen stories, a bowling alley, a see-through swimming pool, a secret underground laboratory, and a marshmallow machine that follows you around and automatically shoots marshmallows into your mouth whenever you are hungry.

Life would be perfect for Andy and Terry if it wasn't for the fact that they have to write their next book, which is almost impossible because there are just so many distractions, including thirteen flying cats, giant bananas, mermaids, a sea monsters pretending to be mermaids, enormous gorillas, and dangerous burp gas-bubblegum bubbles!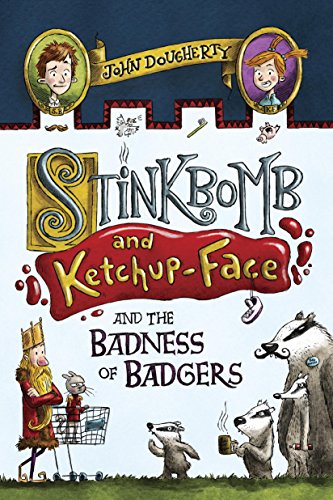 Welcome to the kingdom of Great Kerfuffle!
Great Kerfuffle is really great. And there's usually a kerfuffle (the clue's in the name really).
This particular kerfuffle started the day Stinkbomb's twenty dollar bill went missing. Stinkbomb and his little sister Ketchup-Face know exactly who took it: the badgers.
After all, they're called badgers because they do bad things; otherwise they'd just be gers.

They bring news of the badgers' treachery to King Toothbrush Weasel (don't get us started on the story behind his name…), who sends them on a quest to rid the land of badgers.
What follows is a full on kerfuffle-fest, containing: one deep dark forest, a grocery cart in distress, a song about jam–and, of course, a band of very tricky badgers.

Be prepared to laugh your socks off, and maybe your ears, too.
Danny Owens is dedicating his seventh-grade season to his Super Bowl champion father, who recently passed away.
Danny promises everyone that, just like his dad, he'll dominate the big game at the end of the season and earn a spot on the high school varsity team.
Then his English teacher catches him cheating on a test. Even though Danny can retake it, he knows there's no point. He can't read.
And if Danny can't pass this class, he won't be eligible to play in the championship game that could unlock his future.
While his resentment rises against the only person willing to help him win off the field, the pressure to succeed begins to weigh heavily on Danny's shoulders.
Danny is being tested on every level now, and to pass, he may very well have to choose a different path from his father's.
George and Harold have created a new breed of justice. With the head of a dog and the body of a human, this heroic hound digs into deception, claws after crooks, rolls over robbers, and scampers after squirrels.
Will he be able to resist the call of the wild to answer the call of duty?
Related: Dog Man Books in Order: The Ultimate Guide
Don't even think of starting this book unless you're sitting in a comfortable chair and have lots of time.
A fast-paced, impossible-to-put-down adventure awaits as the young orphan Peter and his mates are dispatched to an island ruled by the evil King Zarboff.
They set sail aboard the Never Land, a ship carrying a precious and mysterious trunk in its cargo hold, and the journey quickly becomes fraught with excitement and danger.
Discover richly developed characters in the sweet but sophisticated Molly, the scary but familiar Black Stache, and the fearless Peter.
Treacherous battles with pirates, foreboding thunderstorms at sea, and evocative writing immerses the reader in a story that slowly and finally reveals the secrets and mysteries of the beloved Peter Pan.
Discover the Best Chapter Book Series for Tweens!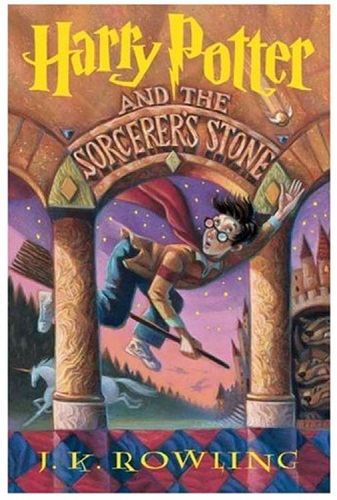 Harry Potter spent ten long years living with Mr. and Mrs. Dursley, an aunt and uncle whose outrageous favoritism of their perfectly awful son Dudley leads to some of the most inspired dark comedy since Charlie and the Chocolate Factory.
But fortunately for Harry, he's about to be granted a scholarship to a unique boarding school called THE HOGWORTS SCHOOL OF WITCHCRAFT AND WIZARDRY, where he will become a school hero at the game of Quidditch (a kind of aerial soccer played high above the ground on broomsticks), he will make some wonderful friends, and, unfortunately, a few terrible enemies.
For although he seems to be getting your run-of-the-mill boarding school experience (well, ok, even that's pretty darn out of the ordinary), Harry Potter has a destiny that he was born to fulfill. A destiny that others would kill to keep him from.
Related: Harry Potter Books in Order: The Ultimate Guide
Jesse Rigsby hates video games – and for good reason. You see, a video game character is trying to kill him.
After getting sucked in the new game Full Blast with his friend Eric, Jesse starts to see the appeal of vaporizing man-size praying mantis while cruising around by jet pack.
But pretty soon, a mysterious figure begins following Eric and Jesse, and they discover they can't leave the game. If they don't figure out what's going on fast, they'll be trapped for good!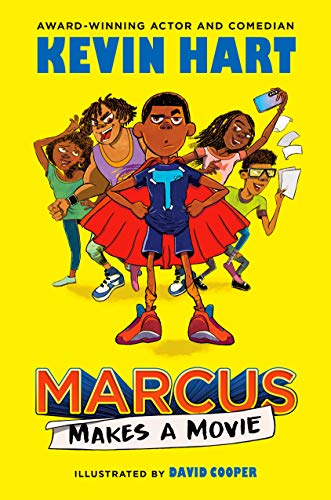 Marcus is NOT happy to be stuck in after-school film class . . . until he realizes he can turn the story of the cartoon superhero he's been drawing for years into an actual MOVIE!
There's just one problem: he has no idea what he's doing. So he'll need help, from his friends, his teachers, Sierra, the strong-willed classmate with creative dreams of her own, even Tyrell, the local bully who'd be a perfect movie villain if he weren't too terrifying to talk to.

Making this movie won't be easy. But as Marcus discovers, nothing great ever is—and if you want your dream to come true, you've got to put in the hustle to make it happen.
Discover the Best Chapter Book Series for Tweens!
Ally has been smart enough to fool a lot of smart people. Every time she lands in a new school, she is able to hide her inability to read by creating clever yet disruptive distractions.
She is afraid to ask for help; after all, how can you cure dumb? However, her newest teacher Mr. Daniels sees the bright, creative kid underneath the trouble maker.
With his help, Ally learns not to be so hard on herself and that dyslexia is nothing to be ashamed of.
As her confidence grows, Ally feels free to be herself and the world starts opening up with possibilities.
She discovers that there's a lot more to her—and to everyone—than a label, and that great minds don't always think alike.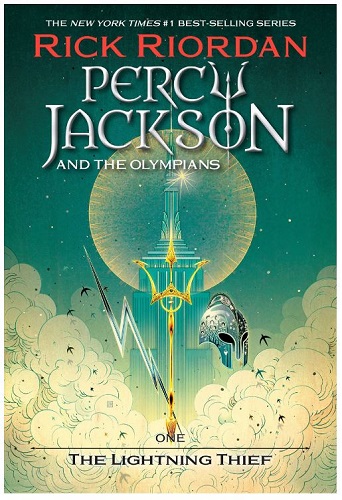 Percy Jackson is about to be kicked out of boarding school . . . again. And that's the least of his troubles.
Lately, mythological monsters and the gods of Mount Olympus seem to be walking straight out of the pages of Percy's Greek mythology textbook and into his life. And worse, he's angered a few of them.
Zeus's master lightning bolt has been stolen, and Percy is the prime suspect. Now Percy and his friends have just ten days to find and return Zeus's stolen property and bring peace to a warring Mount Olympus.
But to succeed on his quest, Percy will have to do more than catch the true thief: he must come to terms with the father who abandoned him; solve the riddle of the Oracle, which warns him of betrayal by a friend; and unravel a treachery more powerful than the gods themselves.
Related: Percy Jackson Books in Order: The Ultimate Guide
Stanley Yelnats is under a curse. A curse that began with his no-good-dirty-rotten-pig-stealing-great-great-grandfather and has since followed generations of Yelnatses.
Now Stanley has been unjustly sent to a boys' detention center, Camp Green Lake, where the boys build character by spending all day, every day digging holes exactly five feet wide and five feet deep.
There is no lake at Camp Green Lake. But there are an awful lot of holes.

It doesn't take long for Stanley to realize there's more than character improvement going on at Camp Green Lake. The boys are digging holes because the warden is looking for something.
But what could be buried under a dried-up lake? Stanley tries to dig up the truth in this inventive and darkly humorous tale of crime and punishment—and redemption.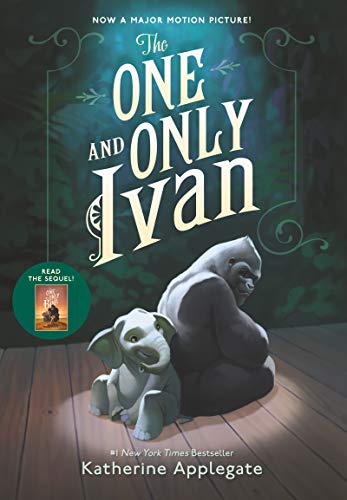 Having spent twenty-seven years behind the glass walls of his enclosure in a shopping mall, Ivan has grown accustomed to humans watching him.
He hardly ever thinks about his life in the jungle. Instead, Ivan occupies himself with television, his friends Stella and Bob, and painting.
But when he meets Ruby, a baby elephant taken from the wild, he is forced to see their home, and his art, through new eyes.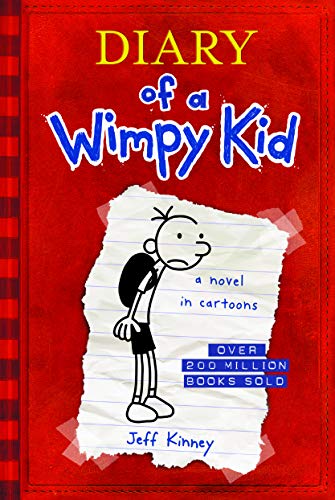 It's a new school year, and Greg Heffley finds himself thrust into middle school, where undersized weaklings share the hallways with kids who are taller, meaner, and already shaving.
The hazards of growing up before you're ready are uniquely revealed through words and drawings as Greg records them in his diary.

In book one of this debut series, Greg is happy to have Rowley, his sidekick, along for the ride.
But when Rowley's star starts to rise, Greg tries to use his best friend's newfound popularity to his own advantage, kicking off a chain of events that will test their friendship in hilarious fashion.
Related: Diary of a Wimpy Kid Books in Order: The Ultimate Guide
A shout comes echoing up the stairway. "Fetch the whipping boy!"
A young orphan named Jemmy rouses from his sleep.
"Ain't I already been whipped twice today? Gaw! What's the prince done now?"
It was forbidden to spank, thrash, or whack the heir to the throne. Jemmy had been plucked from the streets to serve as whipping boy to the arrogant and spiteful Prince Brat.
Dreaming of running away, Jemmy finds himself trapped in Prince Brat's own dream at once brash and perilous.
In this briskly told tale of high adventure, taut with suspense and rich with colorful characters, the whipping boy and Prince Brat must at last confront each other.
Related: Best Body Swapping and Switching Books for Tweens
After the tragic death of their father, Emily and Navin move with their mother to the home of her deceased great-grandfather, but the strange house proves to be dangerous.
Before long, a sinister creature lures the kids' mom through a door in the basement. Em and Navin, desperate not to lose her, follow her into an underground world inhabited by strange creatures, robots, and talking animals.
Eventually, they enlist the help of a small mechanical rabbit named Miskit. Together with Miskit, they face the most terrifying monster of all, and Em finally has the chance to save someone she loves.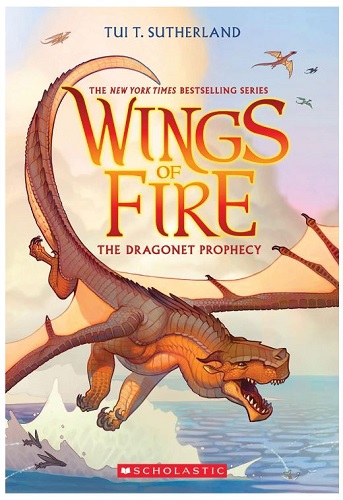 Clay has lived his whole life under the mountain. The MudWing dragonet knows that war is raging between the dragon tribes in the world outside — a war that he and four other dragonets are destined to end, according to the mysterious Prophecy they've been taught.
The five "chosen" dragonets were stolen from their homes while they were still in their eggs and hidden away ever since — all to fulfill the Prophecy.
But not every dragonet wants a destiny. And when danger threatens one of their own, Clay and his friends must choose freedom over fate . . . leave the mountain . . . and set the dragon world on a course that no one could have predicted.
Related: Wings of Fire Books in Order: The Ultimate Guide
Welcome to a neighborhood of kids who transform ordinary boxes into colorful costumes, and their ordinary block into cardboard kingdom.
This is the summer when sixteen kids encounter knights and rogues, robots and monsters–and their own inner demons–on one last quest before school starts again.

In the Cardboard Kingdom, you can be anything you want to be–imagine that!
Tim is just a peasant, but he dreams big. He wants more out of life than to grow up to be a woodsman like his father.
Unfortunately, the only route to success in the kingdom of Wyld is to be born a prince. Still, Tim is determined.
He is brave and clever and always tries to do the right thing—even though he rarely gets the credit for it.

Then news spreads that Princess Grace of the neighboring kingdom has been abducted by the evil Stinx and Prince Ruprecht needs a legion of knights to join him on his quest to rescue her.
Tim finally has the lucky break he's been waiting for, the opportunity to change his station in life.
And even though he doesn't know how to ride a horse or wield anything more deadly than a water bucket, he's going to do whatever it takes to make sure his dream becomes a reality.
Ben Ripley may only be in middle school, but he's already pegged his dream job: CIA or bust.
Unfortunately for him, his personality doesn't exactly scream "secret agent." In fact, Ben is so awkward, he can barely get to school and back without a mishap.
Because of his innate nerdiness, Ben is not surprised when he is recruited for a magnet school with a focus on science—but he's entirely shocked to discover that the school is actually a front for a junior CIA academy. Could the CIA really want him?
Swift, a young wolf cub, lives with his pack in the mountains learning to hunt, competing with his brothers and sisters for hierarchy, and watching over a new litter of cubs.
Then a rival pack attacks, and Swift and his family scatter.
Alone and scared, Swift must flee and find a new home. His journey takes him a remarkable one thousand miles across the Pacific Northwest.
The trip is full of peril, and Swift encounters forest fires, hunters, highways, and hunger before he finds his new home.
Inspired by the extraordinary true story of a wolf named OR-7 (or Journey), this irresistible tale of survival invites readers to experience and imagine what it would be like to be one of the most misunderstood animals on earth.
Twelve-year-old Artemis is a millionaire, a genius-and above all, a criminal mastermind.
But Artemis doesn't know what he's taken on when he kidnaps a fairy, Captain Holly Short of the LEPrecon Unit. These aren't the fairies of the bedtime stories-they're dangerous!
It's Omri's birthday, but all he gets from his best friend, Patrick, is a little plastic warrior figure.
Trying to hide his disappointment, Omri puts his present in a metal cupboard and locks the door with a mysterious skeleton key that once belonged to his great-grandmother.
Little does Omri know that by turning the key, he will transform his ordinary plastic toy into a real live man from an altogether different time and place!
Omri and the tiny warrior called Little Bear could hardly be more different, yet soon the two forge a very special friendship.
Will Omri be able to keep Little Bear without anyone finding out and taking his new friend away?
Someone keeps playing pranks on Ryan and it is starting to affect how he plays basketball. Who is the big prankster and why are they out to get Ryan?
There has been a terrible mistake. Instead of having thirty classrooms side by side, Wayside School is thirty storeys high! (The builder said he was sorry.)
Perhaps that's why all sorts of strange and unusual things keep happening – especially in Mrs Jewls's classroom on the very top floor.

There's the terrifying Mrs Gorf, who gets an unusually fruity comeuppance; Terrible Todd, who always gets sent home early; and Mauricia, who has a strange ice-cream addiction.
Meanwhile, John can only read upside down, and Leslie is determined to sell her own toes.
George and Harold are a couple of class clowns. The only thing they enjoy more than playing practical jokes is creating their own comic books.
And together they've created the greatest superhero in the history of their elementary school: Captain Underpants! His true identity is SO secret, even HE doesn't know who he is!
Related: Captain Underpants Books in Order: The Ultimate Guide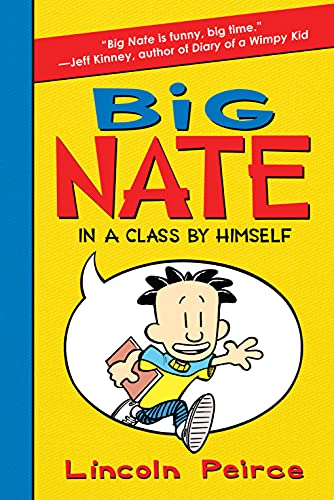 Nate knows he's meant for big things. REALLY big things. But things don't always go your way just because you're awesome.
Nate barely survives his dad's toxic oatmeal before rushing off to school—minus his lunch. He body slams the no-nonsense principal.
He accidentally insults his least favorite teacher, the horrifying Mrs. Godfrey (aka Godzilla). And school has barely started!
Trouble always seems to find him, but Nate keeps his cool. He knows he's destined for greatness. A fortune cookie told him so.
Here comes BIG NATE, accidental mischief maker and definitely NOT the teacher's pet.
It all starts with a note folded into the shape of an origami octopus: "Hi, Me. Yes, you. You're me, and I'm you."
If you believe this and the other origami notes that follow–which middle schooler Meade Macon absolutely, positively does NOT–the concept of parallel dimensions is true, and there is a convention full of alternate versions of Meade waiting for his RSVP. It's got to be a joke.
Except . . . the octopus is an origami fold Meade thought he invented. And the note writer has a lot of intel on him that nobody else should know.
I mean, he's told his best friend Twig a lot about himself, but he's definitely kept mum about that time he sleepwalk-peed into his Lego container when he was six.
Could Me Con be a real thing? And why does the origami stalker want him to go so badly anyway?
This incredible, original story captures all of the humor, awkwardness, fun, and frustrations of middle school–all told through one boy's comics, journal entries, letters, doodles, and newspaper clippings. The setting? A galaxy far, far away…

Roan's one dream is to leave home and attend Pilot Academy like his older brother, father, and grandfather.
But just as Roan is mysteriously denied entrance to Pilot School, he is invited to attend Jedi Academy–a school that he didn't apply to and only recruits children when they are just a few years old. That is, until now…

This inventive novel follows Roan's first year at Jedi Academy where, under the tutelage of Master Yoda, he learns that he possesses more strength and potential than he could have ever dreamed.
Oh, and he learns other important things too–like how to make a baking soda volcano, fence with a lightsaber, slow dance with a girl, and lift boulders with the Force.
Ever since the monster apocalypse hit town, average thirteen-year-old Jack Sullivan has been living in his tree house, which he's armed to the teeth with catapults and a moat, not to mention video games and an endless supply of Oreos and Mountain Dew scavenged from abandoned stores.
But Jack alone is no match for the hordes of Zombies and Winged Wretches and Vine Thingies, and especially not for the eerily intelligent monster known only as Blarg.
So Jack builds a team: his dorky best friend, Quint; the reformed middle school bully, Dirk; Jack's loyal pet monster, Rover; and the fiercest girl Jack knows, June.
With their help, Jack is going to slay Blarg, achieve the ultimate Feat of Apocalyptic Success, and be average no longer! Can he do it?

Told in a mixture of text and black-and-white illustration, this is the perfect series for any kid who's ever dreamed of starring in their own comic book or video game.
Related: The Last Kids on Earth Books in Order: The Ultimate Guide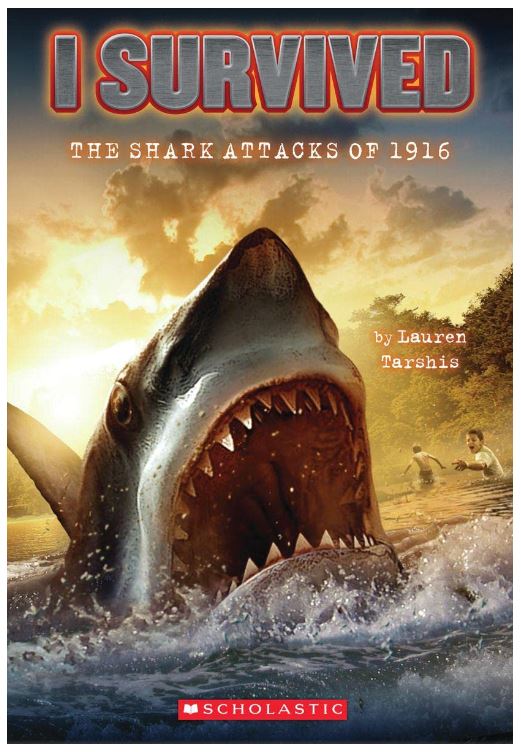 Based on true events! It's the summer of 1916 and the Jersey shore is being terrorized by a Great White shark.
Can 10-year-old Chet and his friends survive a swim in the local creek?
Chet Roscow is finally feeling at home in Elm Hills, New Jersey. He has a job with his uncle Jerry at the local diner, three great friends, and the perfect summertime destination: cool, refreshing Matawan Creek.
But Chet's summer is interrupted by shocking news. A great white shark has been attacking swimmers along the Jersey shore, not far from Elm Hills.
Everyone in town is talking about it. So when Chet sees something in the creek, he's sure it's his imagination. . . until he comes face-to-face with a bloodthirsty shark!
Related: I Survived Graphic Novels: The Ultimate Guide
Introducing everyone's new best friend: Stick Dog! He'll make you laugh . . . he'll make you cry . . . but above all, he'll make you hungry.
Follow Stick Dog as he goes on an epic quest for the perfect burger.
Related Book Lists: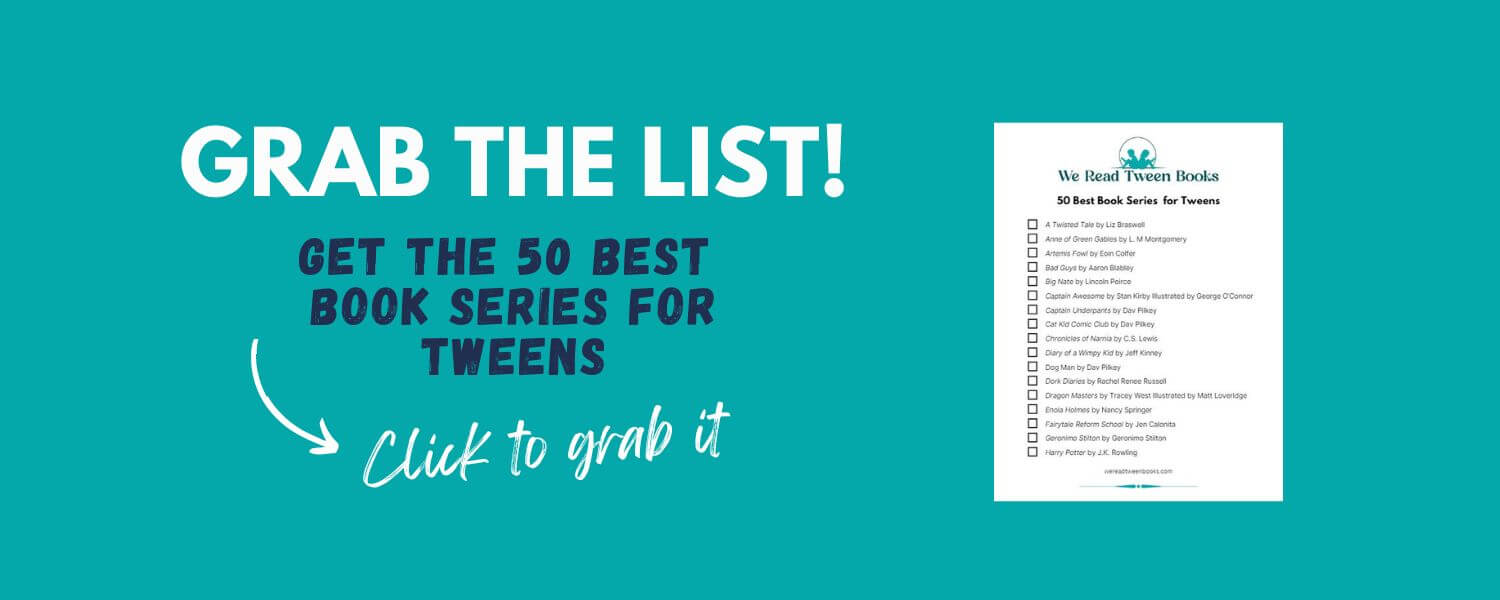 Pin This for Later: