Check out all of the books in the Max Meow series if your reader loves funny graphic novels with superheroes.
This book list gives you all the Max Meow books in order but then read on for fun extras to enjoy with the Max Meow series and frequently asked questions about the author, reading level and more.
*Disclosure: I participate in the Amazon Affiliates program so if you click an affiliate link and make a purchase, I make a small commission at no extra cost to you.
Max Meow Series: Books in Order
Max Meow Books in Order with Publisher Descriptions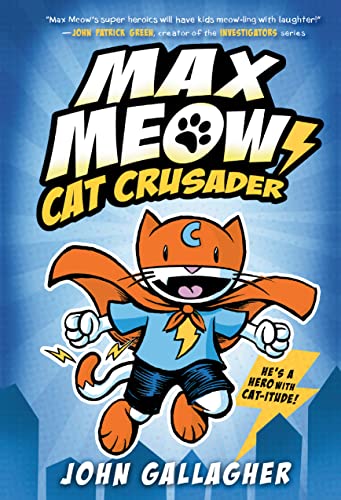 Max Meow Book 1
Max is just a regular cat in Kittyopolis, trying to make it big as a podcaster until he accidentally takes a bite of an radioactive space meatball at his best friend Mindy's secret lab. Then before you can say MEOWZA, Max becomes…The CAT CRUSADER!
Being a super hero is fun–but not if you get so cocky, you forget your best friend! Will Max and Mindy make up? And together, can they save Kittyopolis from the evil Agent M and BIG BOSS?! Find out in this furr-ociously funny series! BONUS: Includes how to draw Max Meow!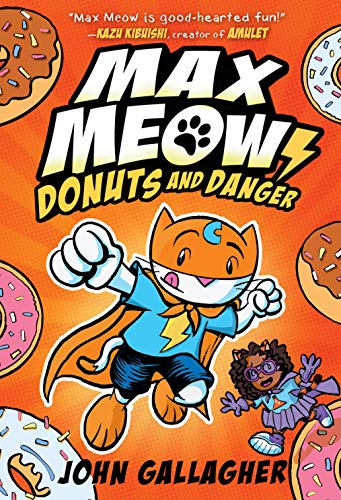 Max Meow Book 2
Meowza! Max was just getting used to being a SECRET SUPER HERO when his and his best friend Mindy's evil look-alikes show up in Kittyopolis! And what's worse, they're determined to take over the world's donut supply–and Max and Mindy are getting blamed!
Can Max and Mindy work together to save the day–and the donuts?! Find out in Max Meow Book 2: Donuts and Danger! A deliciously funny series that's so good you'll want seconds! Bonus! Includes How to Draw Mindy AND Max Meow's SECRET Donut Scavenger hunt!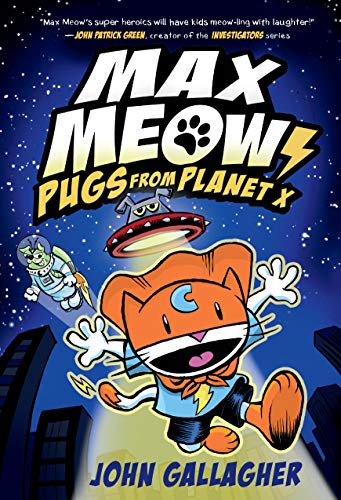 Max Meow Book 3
Meowza! Space pugs have landed in Kittyopolis and they're after the space meatball that gave Max his powers! Can Max and Mindy save Kittyopolis?!

Sometimes being a HERO means knowing when to ask for help, and it will take a whole universe of good guys to stop these space dogs! Luckily Max and Mindy have backup.
Meet Rex Rocket, Intergalactic Space Guard, and get ready for Kittyopolis's Bad Guys to become Good (at least temporarily!) to join the adventure!
Packed with twists and turns, puns and fun, put your paws together for the latest action packed adventure in the laugh out loud series kids (and cats!) love! Bonus: Includes how to draw Rex Rocket!
Max Meow Book 4
It's a cat! It's a superhero! It's a . . . Taco Time Machine!?!? Uh-oh! Mindy's dad, Professor Microbe, is lost in the time space continuum! It's up to Max and Mindy to save him!
But time is tricky once you start messing with it and—oops!—Max may have accidentally undone his and Mindy's very first meeting! That means no Space Meatball. No Science Kitty. No Cat Crusador. No best friends forever?!?! Ack!
This time it's not just Kittyopolis that's in trouble, it's Max and Mindy's entire friendship! Put on your superhero capes, grab your tacos and get ready to go back in time in the graphic novel series kids (and kitties!) love! Bonus: Includes how to Draw Agent M!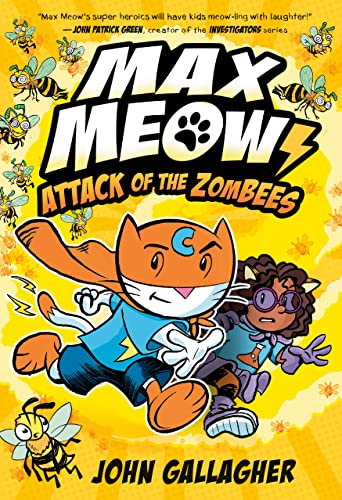 Max Meow Book 5
Buzzzz off bad guys! There's a new villain in Kittyopolis—Dr. ZomBEE! And he has it in for the city's bees! (Boy, does that sting!). Why would anyone want to hurt bees?! And who is Dr. ZomBEE? It's a Kittyopolis mystery!

Can Max and Mindy get to the bottom of it or are they about to BEE stung?! Find out what the buzz is about in the fifth laugh out loud funny Max Meow graphic novel!

Bonus includes how to draw activities!
Frequently Asked Questions About the Max Meow Series:
What is the Max Meow Series About?
The Max Meow series is about a cat who unwittingly becomes a superhero after eating a radioactive meatball and works with his best friend Mindy to save Kittyopolis from evil.
How Many Max Meow Books Are There?
There are currently five books in the graphic novel series.
What is the Max Meow Recommended Reading Level?
Recommended Reading Age: 7-10
Recommended Reading Grades: 2-5
Who Writes the Max Meow Series?
The Max Meow series is written by John Gallagher who learned to read with comics. In addition to writing and illustrating other books as well as the Max Meow series, John is the Art Director at NWF's Ranger Rick magazine!
Who Would Enjoy the Max Meow Series?
Any tween readers who love graphic novels featuring fun-loving animals would enjoy the Max Meow series. Readers who also love funny stories and books about superheroes, friendships, adventures and cats would love this series.
The Max Meow series would also appeal to fans of the Dog Man books and the InvestiGators graphic novel series.
Max Meow Series Extras:
Visit the Max Meow site for lots of fun extras related to the series, including:
Play the Max Meow Arcade Game
Learn How to Draw Your Favorite Characters
Download Free Coloring Pages
Watch Fun Max Meow Videos
Discover the Best Chapter Book Series for Tweens!
Related Book Lists: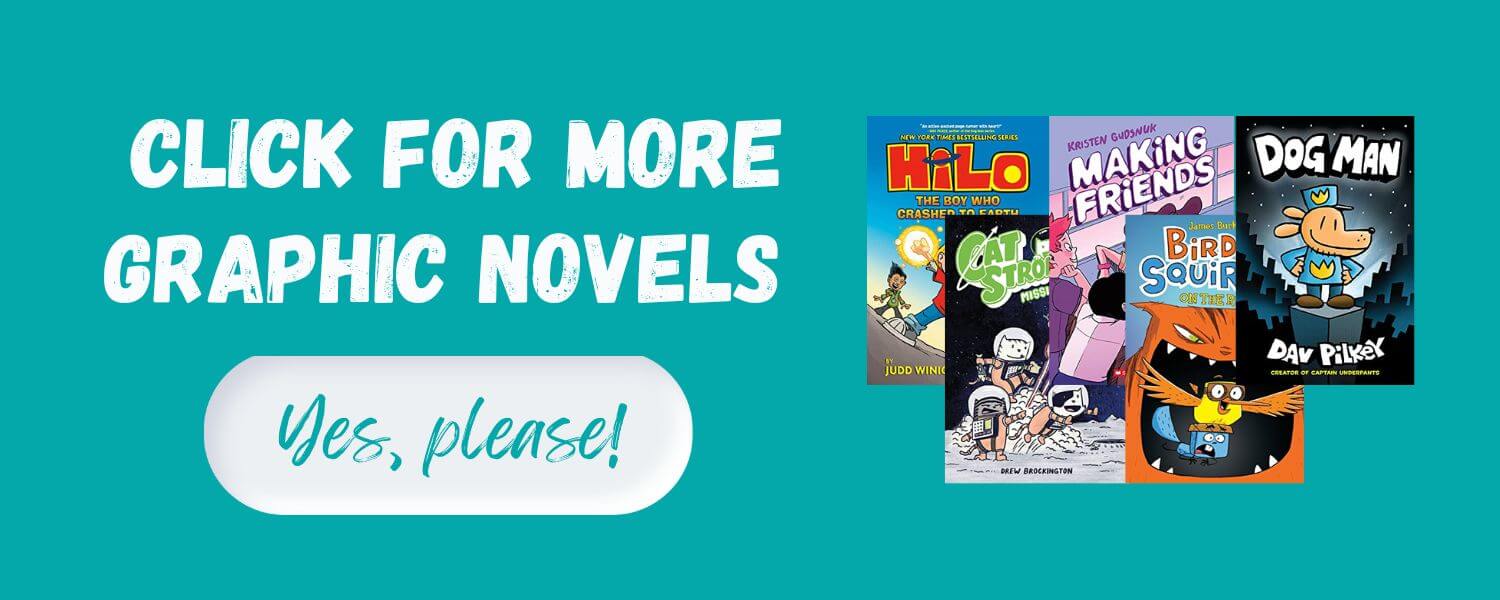 Pin This for Later: