Discover the best books about unicorns for kids and tweens in this magical book list! If you have a reader who loves unicorns then you're going to want to check out these must-read books.
It's sort of a right of passage to fall in love with unicorns when you're a child so why not get your kid or tween excited about reading with a book about unicorns?
This book list gives you all the best books about unicorns for kids who are into early chapter books and books about unicorns for tweens who are into graphic novels and chapter books.
*Disclosure: I participate in the Amazon Affiliates program so if you click an affiliate link and make a purchase, I make a small commission at no extra cost to you.
Books About Unicorns for Kids
Imagine a school where you meet your own unicorn and learn to talk to them! Sophia is sure she and her unicorn, Rainbow will be great partners, but their first test isn't a part of their lessons. Sparkle Lake gives unicorns their magic, and when it starts turning a funny color, everything goes wrong! Can Sophia and Rainbow brave the dangerous woods to save the unicorns' magic?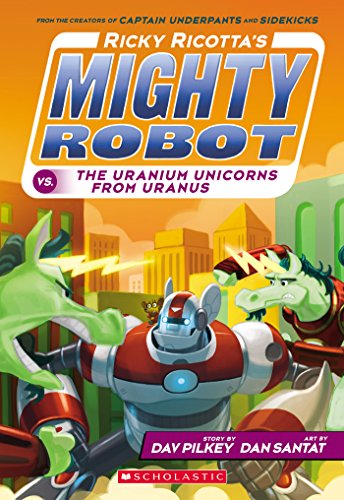 Having a big best friend isn't always big fun…Ricky Ricotta loves his Mighty Robot. They do everything together, but it's sometimes hard for a small mouse to have such a big buddy! If only the Mighty Robot could find someone his own size to play with, Ricky might finally have some fun by himself.Little does Ricky know, his wish is about to come true.
Evil Uncle Unicorn has a top-secret plan to trap the Mighty Robot so that he can take over Earth, and he's got a giant surprise in store. Once again, it's up to Ricky to save the planet — and his best friend!
Related: Dog Man Books in Order
Jack and Annie must rescue a beautiful magical creature—the unicorn. But when they land in New York City during the Depression of the 1930s, Jack and Annie are confused. Where will they find a unicorn in a big city?
Related: Magic Treehouse Graphic Novels
Liza is on her way to the local stables when she slips on the snow and hurts herself! Out of nowhere, a sleigh pulled by a white unicorn appears and takes her all the way to the stable. Her friends don't believe it was really a unicorn; Liza must have been seeing things! But Liza is determined to prove that she knows what she saw!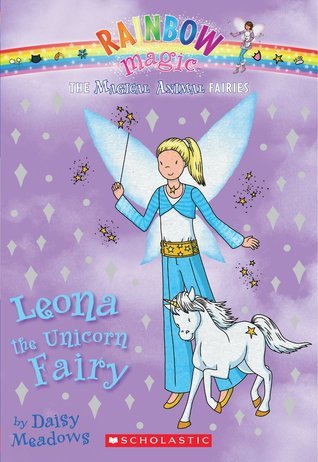 Rachel and Kirsty are heading to outdoor adventure camp — and another fairy adventure is just around the corner! The Magical Animal Fairies' seven animals are missing. The animals each look after a special kind of magic. If Rachel and Kirsty can't find them fast, nothing will be the same!

The girls are excited to go horseback riding! Could Leona the Unicorn Fairy's special unicorn be near the stables, too? There's only one way to find out.

Find the missing magical animal in each book and help save the fairy magic!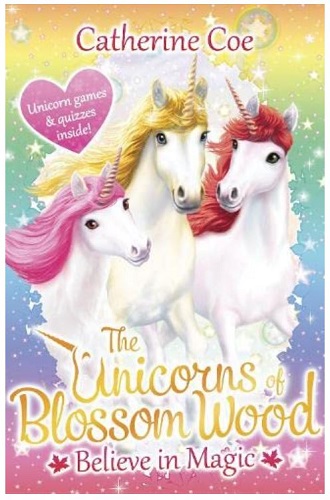 In this book a trio of girls, all cousins from round the world discover that they can turn into unicorns and explore a magical place called Blossom Wood and make friends with animals and discover their magical powers.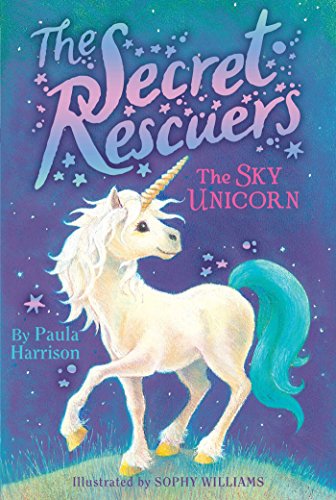 Ava is horrified when Clover, a baby unicorn, is stolen from his herd by the evil Sir Fitzroy. She comes up with a secret plan to rescue him, and, wearing a clever disguise, Ava bravely sets off into the night. But will she be able to teach Clover to fly in time to escape?
It's Twilight's first day at Unicorn University, and she's nervous from the tip of her sparkly horn to the end of her shimmery tail. And when Twilight gets nervous, sometimes she loses control of her magic power, and turns invisible by mistake! But she can't help her feelings. What if the other unicorns laugh at her power? What if she doesn't make any friends?

To make matters worse, the first day of school is also class picture day. With everything going on, Twilight keeps accidentally flickering out of sight, until finally she turns invisible…and realizes she can't turn herself back! Can Twilight reappear in time for the class picture?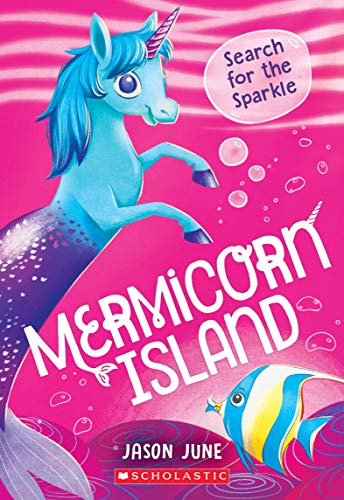 Half unicorn, half mermaid, and totally adorable!
In the colorful undersea world of Mermicorn Island, magic is all around, if you just know where to look. And no one is looking harder than Lucky the Mermicorn! He is eager to find his 'sparkle,' that special thing, or bit of magic that will make him stand out.So when Lucky finds a glittering treasure chest filled with seashells, and a mysterious note that instructs the finder to "share the magic" he's convinced his life must be in for a whale of a change!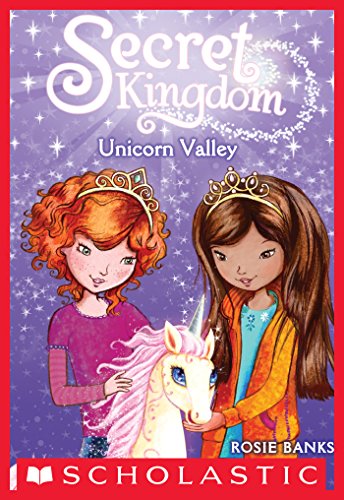 Ellie, Summer, and Jasmine are excited to visit the Secret Kingdom once again. And this time, they are traveling as Very Important Friends of King Merry, who needs their help!

His wicked sister, Queen Malice, has hidden a thunderbolt in Unicorn Valley. Can the girls help their new unicorn friends save the magical land and earn their golden horns?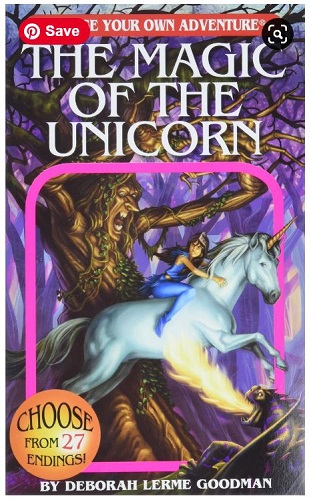 Choose Your Own Adventure The Magic of the Unicorn is an interactive adventure book in which YOU decide what happens next.

You are a brave, quick-thinking kid searching for a magical unicorn's horn. You set off with a talisman in hopes of solving the town riddle and saving your village. Will your enchanted net catch a unicorn or a dragon? Can the sorceress help? Or will she cause even more trouble?
After centuries of mystery, the mythical Magical Unicorn Society has published its official handbook.

These learned lovers of unicorns have created a veritable treasure trove of unicorn lore—the facts, the fiction, the where, why and what of these elusive creatures. Discover where unicorns really live around the world, how to find them, and what they eat Learn how to look after them, what powers they have, how to tempt them, train them, and even ride them, and so much more.

With breathtaking artwork from Helen Dardik and Harry and Zanna Goldhawk, this special book is the ultimate gift for true believers.
Books About Unicorns for Tweens and Teens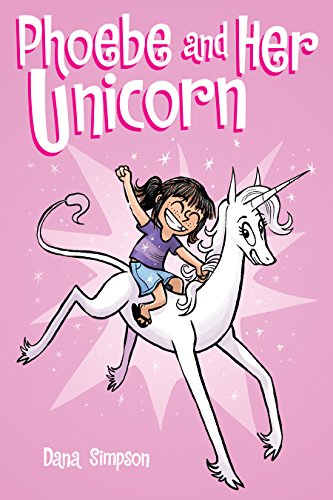 A boy and his dog . . . a girl and her . . . unicorn?

It all started when a girl named Phoebe skipped a rock across a pond and accidentally hit a unicorn in the face.
Improbably, this led to Phoebe being granted one wish, and she used it to make the unicorn, Marigold Heavenly Nostrils, her obligational best friend.
But can a vain mythical beast and a nine-year-old daydreamer really forge a connection? Indeed they can, and that's how Phoebe and Her Unicorn unfolds.
Related: Phoebe and Her Unicorn Books in Order
Pacey's little sister, Mina, has always said her stuffed unicorn, Slasher, is real–but seriously? He's a stuffed toy! Then again, he does seem to be leading Mina outside her room and to . . . some kind of weird magical unicorn land? Pacey may not believe in unicorns, but she's not about to let her little sister be kidnapped, so she does the only thing she can: follows them to unicorn land (that she totally does NOT believe in).
And for the record, it's NOTHING like the stories. First off, what's up with Slasher's attitude? It's not Pacey's fault he's trapped in a ridiculous stuffed body. And that Alpha Unicorn guy? NOT. Nice.
Pacey will just be grabbing Mina and taking her home, thankyouverymuch . . . that is, if she can work with the grumpiest unicorn stuffy ever to outsmart the Evil Alpha Unicorn and find the way out–preferably without stepping on any poisonous killer flowers. (WHAT IS WITH THIS PLACE ANYWAY?!)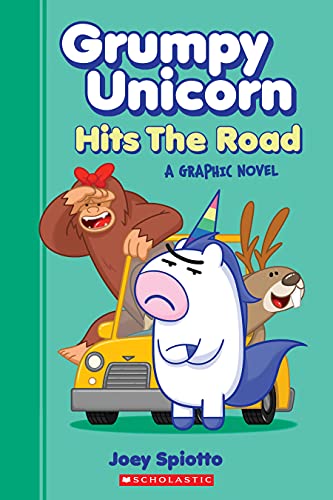 Grumpy Unicorn is bored. Really bored. And what's a Unicorn to do when the town he lives in has nothing fun to do? Hit the road in search of adventure, of course!
In this laugh-out-loud original story, everyone's favorite magical grouch sets off to find something or someone that doesn't totally annoy him. And sort of succeeds. With new characters like Sassy the Sasquatch, Jack the Jackelope, and some out-of-this-world friends, this hilarious journey is a must-have for fans of Grumpy Unicorn: Why Me?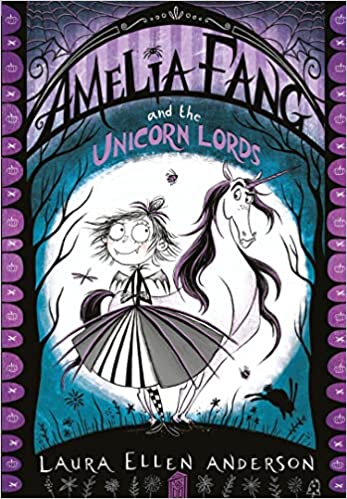 Amelia Fang is the biggest hearted vampiress you'll ever meet. In this adventure, she and her friends Florence the yeti (DON'T CALL HER BEAST), Grimaldi the Death and Prince Tangine (reformed spoiled sprout), along with her pet pumpkin Squashy, must brave the journey to the terrifying Kingdom of the Light to try to find Tangine's missing mother, Queen Fairyweather.

But with unicorns, fairies and angel-kittens lurking around every corner, who can they trust? And will they finally uncover the real villain keeping the kingdoms of Light and Dark as mortal enemies?
Rules for Being a Princess:

1. Your name must be on the Fairy Godmother's list.
2. You must always be elegant and graceful.
3. A unicorn must choose you.

When Grace arrives at Tall Towers Princess Academy, her name isn't on the Fairy Godmother's list of students. She isn't elegant at all—not even her curtsy is graceful. And all the other girls are sure she's headed straight back to her tiny, messy kingdom.
But one unicorn knows better. He's clumsy and dirty and the perfect match for Grace! And together they have tons of fun. But the other princesses aren't convinced Grace belongs at the academy. Can she prove that being a princess is about more than just being perfect?
Growing up in a bustling city, Elodie Lightfoot thinks she's seen it all. Except, she's never seen a unicorn before… until now.
And not just that – she can feel the unicorn's magic too – it's as if a special bond exists between them. But while these exciting powers bring adventure, they also bring danger as Elodie realises she's prepared to protect her unicorn at all costs…
When Sam arrives in Foggy Harbor, population 3,230, all she can see is a small, boring town that's way too far from home. And knowing that she's stuck there all summer with her grumpy Uncle Mitch only makes things worse.

But when Sam discovers a hidden trapdoor leading to a room full of strange artifacts, she realizes Foggy Harbor isn't as sleepy as it seems. With the help of a new friend, Sam discovers an extraordinary secret beyond the fog: an island of unicorns whose fates are intertwined with hers.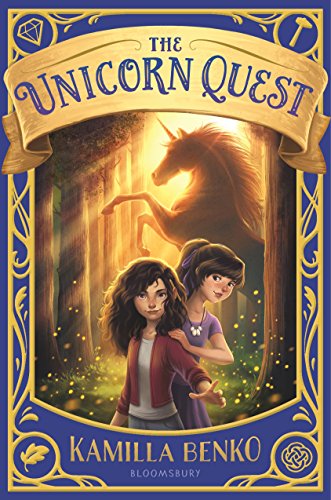 Claire Martinson still worries about her older sister Sophie, who battled a mysterious illness last year. But things are back to normal as they move into Windermere Manor . . . until the sisters climb a strange ladder in a fireplace and enter the magical land of Arden.

There, they find a world in turmoil. The four guilds of magic no longer trust each other, the beloved unicorns have disappeared, and terrible wraiths roam freely. Scared, the girls return home. But when Sophie vanishes in the night, it will take all of Claire's courage to climb back up the ladder, find her sister, and uncover the unicorns' greatest secret.
Welcome to Miss Qiunzella Thiskwin Penniquiqul Thistle Crumpet's Camp for Hardcore Lady Types. The five scouts of Roanoke cabin—Jo, April, Molly, Mal, and Ripley—love their summers at camp. They get to hang out with their best friends, earn Lumberjane scout badges, annoy their no-nonsense counselor Jen . . . and go on supernatural adventures. That last one? A pretty normal occurrence at Miss Qiunzella's, where the woods contain endless mysteries.
This is the dilemma facing 12-year-old Travis on his first day as a shapeshifter. He's ready to use his new ability to go on missions like his famous parents, to save people from menace and danger, to be a hero just like them. And since it's against the rules to be a dragon, his next best option is a wyvern.

When hunters cross into his world and snatch a harmless unicorn, Travis is quick to transform and fly into action. Perhaps too quick. Who could have known he'd stumble across an illegal private zoo filled with exotic creatures, run by a man with a witch at his side?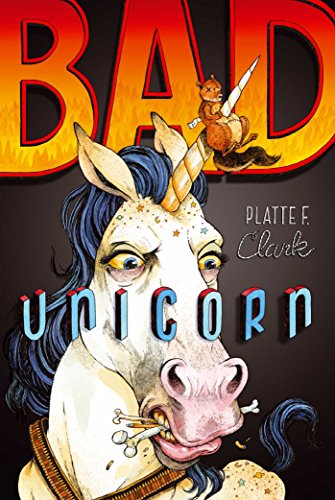 It wasn't Max Spencer's idea to fight robots, lead an army, or save the world—it just so happens that he's the only living person who can read the most fantastical book ever written: The Codex of Infinite Knowability. The Codex is no ordinary book, and among other things, it describes a unicorn named Princess the Destroyer.
Princess the Destroyer is no ordinary unicorn. She loves nothing more than hunting down, killing, and eating other creatures. After all, what's the point of having a sharp horn on your forehead if you don't use it for destructive purposes? And right now Princess has a very definite purpose: Find Max and retrieve the lost Codex for an evil sorcerer and his mysterious master. If she can do that, she's been promised an all-the-humans-you-can-eat buffet in Texas.
Stuck in another world and with a carnivorous unicorn on his trail, Max must find the courage to save himself, his friends, and, oh yeah…the entire human race.
When young James asks one too many questions, his mother and uncle hope an education at Cranford Abbey will make him a proper noble—but when James arrives, the monks there are most interested in keeping the unicorns in the orchard from eating all the prized golden apples they need to save the abbey.
Abbot Aelian thinks he knows how to defeat the ravenous unicorns, though it may actually be up to James to use his inquisitive mind to find a way to save Cranford Abbey and hopefully find a way to return home.
Deep in the heart of a mist-shrouded island, an impossible secret is about to be discovered.

Twig is used to feeling unwanted. Sent to live on a pony ranch for "troubled" girls on a misty, haunted island, Twig is about to discover the impossible–someone who needs her.

Jolted awake from a bad dream, Twig follows the desperate whinny of a terrified horse out to the stables. There in the straw is a bleating little scrap of moonbeam. A silver-white filly with cloven hooves and a tiny, spiraling horn.

A baby unicorn.

Now Twig knows what secret is hiding in the island's mist: the last free unicorn herd. And a mysterious boy named Ben who insists that this impossible creature is now Twig's to care for. That she needs Twig's love and protection. Because there's something out there in the deep, dense shadows that's hunting for them…
It's another lovely day on Ocea, a planet entirely inhabited by mermaids. Suddenly, a huge metallic unicorn lands on the seafloor! Sol, a mermaid scientist, determines that it is an alien spaceship. A neon pink laser blast tells her these creatures do not come in peace.
Hundreds of armed unicorns wearing bubble helmets swarm out of the metallic unicorn ship. An epic battle takes place between the mermaids and the unicorns. Can the mermaids discover the unicorns' weakness in time to save their planet?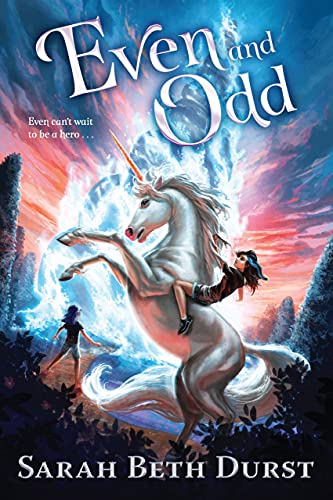 Even and Odd are sisters who share magic. Lately, though, it seems like that's the only thing they have in common. Odd doesn't like magic, and Even practices it every chance she gets, dreaming of the day she'll be ready to be a hero.
When the hidden border between the mundane world the sisters live in and the magical land they were born in shuts abruptly, the girls are trapped, unable to return home.
With the help of a unicorn named Jeremy, they discover a wizard is diverting magic from the border to bolster her own power. Families are cut off from each other on both sides of the border, and an ecological disaster is brewing.
But the wizard cares nothing for the calamitous effects her appropriation of magic is having. Someone has to do something to stop her, and Even realizes she can no longer wait until she's ready: she needs to be a hero now.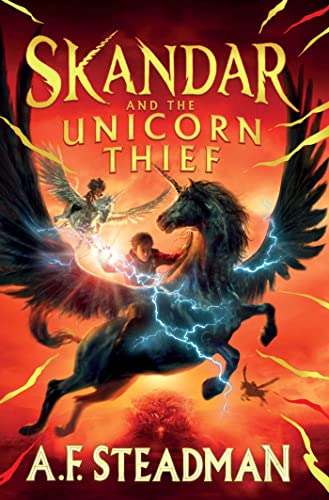 Skandar Smith has always yearned to leave the Mainland and escape to the secretive Island, where wild unicorns roam free. He's spent years studying for his Hatchery exam, the annual test that selects a handful of Mainlander thirteen-year-olds to train to become unicorn riders.
But on the day of Skandar's exam, things go horribly wrong, and his hopes are shattered…until a mysterious figure knocks on his door at midnight, bearing a message: the Island is in peril and Skandar must answer its call.

Skandar is thrust into a world of epic sky battles, dangerous clashes with wild unicorns, and rumors of a shadowy villain amassing a unicorn army. And the closer Skandar grows to his newfound friends and community of riders, the harder it becomes to keep his secrets—especially when he discovers their lives may all be in graver danger than he ever imagined.
Related: Skandar Series Books in Order
Forget everything you ever knew about unicorns. The fluffy, sparkly, friendly "horses" so popular the world over don't exist. Real unicorns are killers.
Beasts the size of elephants, with cloven hooves that shake the earth, hides impervious to bullets, and horns that contain a deadly poison, unicorns can outrun a sports car and smell a human from a mile away.
And they can only be killed by virgin warriors descended from Alexander the Great.
Sixteen-year-old Astrid Llewelyn has grown up with her mom Lilith's tall tales about unicorns and their exalted family heritage, but figures her mom's crazy. But the scary stories her mom told her about the monsters in her formative years left her with a firm phobia about unicorns, even the cutesy kind popular with young girls.
But when one of the monsters attacks her boyfriend in the woods—thereby ruining any chance of him taking her to prom—Astrid finds herself headed to Rome to train as a unicorn hunter.
It's the epic battle of brains against manes. Which side are you on?

It's a question as old as time itself: which is better, the zombie or the unicorn? This all-original anthology edited by Holly Black (Team Unicorn) and Justine Larbalestier (Team Zombie) makes strong arguments for both sides in the form of spectacular short stories.
Half of the stories portray the strengths—for good and evil—of unicorns, and half show the good (and really, really badass) side of zombies. Contributors include many bestselling authors, including Cassandra Clare, Libba Bray, Maureen Johnson, Meg Cabot, Scott Westerfeld, and Margo Lanagan.

This anthology will have everyone asking: Team Zombie or Team Unicorn?
What did you think of my list of books about unicorns? Did I miss one? If your kid or tween has a favorite book about unicorns that didn't make my list, be sure to share it in the comments below!
Related Book Lists:
Discover the Best Chapter Book Series for Tweens!
Pin This for Later: