Calling all middle grader readers who love books about unicorns, magic and epic battles! Discover the Skandar series in this complete guide to the fantasy series by A.F. Steadman.
Below you'll find all the Skandar books in order so you never miss a single book!
*Disclosure: I participate in the Amazon Affiliates program so if you click an affiliate link and make a purchase, I make a small commission at no extra cost to you.
Skandar Series Books in Order:
Skandar Series Books in Order with Publisher Descriptions: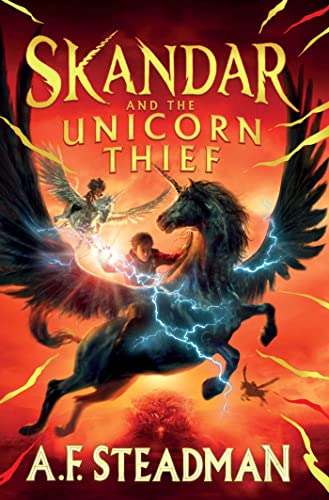 Skandar Series Book 1
Skandar Smith has always yearned to leave the Mainland and escape to the secretive Island, where wild unicorns roam free.
He's spent years studying for his Hatchery exam, the annual test that selects a handful of Mainlander thirteen-year-olds to train to become unicorn riders.
But on the day of Skandar's exam, things go horribly wrong, and his hopes are shattered…until a mysterious figure knocks on his door at midnight, bearing a message: the Island is in peril and Skandar must answer its call.

Skandar is thrust into a world of epic sky battles, dangerous clashes with wild unicorns, and rumors of a shadowy villain amassing a unicorn army.
And the closer Skandar grows to his newfound friends and community of riders, the harder it becomes to keep his secrets—especially when he discovers their lives may all be in graver danger than he ever imagined.
Skandar Series Book 2
Skandar Smith has achieved his dream: to train as a unicorn rider. But as Skandar and his friends enter their second year at the Eyrie, a new threat arises.
Immortal wild unicorns are somehow being killed, a prophecy warns of terrible danger, and elemental destruction begins to ravage the Island.

Meanwhile, Skandar's sister, Kenna, longs to join him, and Skandar is determined to help her, no matter what.
As the storm gathers, can Skandar find the key to stop the Island tearing itself apart before it's too late for them all?
The adventure continues with the thrilling third installment in the Skandar series from New York Times bestselling author A.F. Steadman!

Get ready for even more action, unforgettable characters, and mesmerizing world building as Skandar's adventure amongst the warrior unicorns continues.
Frequently Asked Questions About the Skandar Series
Who Wrote the Skandar Series?
A.F. Steadman is the author of the Skandar series. This is middle grade fantasy series is her first series.
What is the Skandar Series About?
"Thirteen-year-old Skandar Smith has always dreamed of becoming a unicorn rider. But when a dark and twisted enemy steals the world's most powerful unicorn, Skandar and his friends must master their elemental magic, fight furious sky battles, uncover ancient secrets and face bloodthirsty unicorns in this epic adventure."
How Many Books are in the Skandar Series?
There are currently two books in the Skandar series with a third on the way in 2024.
Who Would Enjoy the Skandar Series?
Any tween reader who loves books with adventure, magic, battles and of course unicorns would enjoy the Skandar series.
What is the Recommended Reading Level for the Skandar Series?
Emmie and Friends Recommended Reading Age: 8-12
Emmie and Friends Recommended Reading Grades: 3-7
Related Book Lists:
Discover the Best Chapter Book Series for Tweens!
Pin This for Later: