If you have kids or tweens who are obsessed with video games, then you're going to want to check out this list of books about video games for kids that that they won't be able to put down!
My tween reader LOVES video games but he also loves to read so these books about video games are the perfect match for his interests.
From kids who fall into video games, to games that come alive at the arcade, to coding apps and more, these books about video games will help get your kids off screens and into reading.
Find our favorite graphic novels and chapter books about video games below.
*Disclosure: I participate in the Amazon Affiliates program so if you click an affiliate link and make a purchase, I make a small commission at no extra cost to you.
The Best Books About Video Games
Kids who love video games will love this first installment of the new 5-book series about 12-year old Jesse Rigsby and his wild adventures inside different video games.

Jesse Rigsby hates video games – and for good reason. You see, a video game character is trying to get rid of him.
After getting sucked in the new game Full Blast with his friend Eric, Jesse starts to see the appeal of vaporizing man-size praying mantis while cruising around by jet pack.
But pretty soon, a mysterious figure begins following Eric and Jesse, and they discover they can't leave the game. If they don't figure out what's going on fast, they'll be trapped for good!
Related: Trapped in a Video Game Books in Order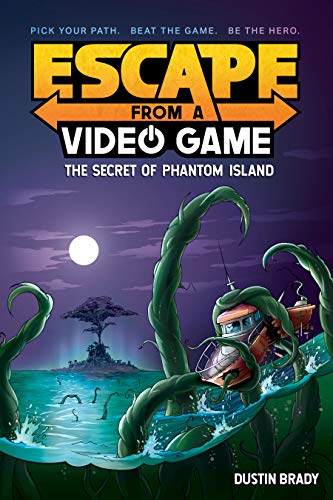 Young gamers control the action in this interactive new series from the bestselling author of Trapped in a Video Game. With more than 30 endings and an unlockable bonus adventure, The Secret of Phantom Island promises hours of screen-free fun.
Cooper Hawke and the Secret of Phantom Island is the greatest video game nobody has ever played.
The treasure-hunting adventure was supposed to set a new standard for gaming. Then, just one month before its release date, it fell off the face of the earth.

Now, for the first time, you get a chance to play the mysterious game—from the inside. As you outsmart enemies, solve puzzles, and explore the island's hidden areas, you'll discover that there's more to this game than the world realized.

Escape from a Video Game is an innovative pick-your-plot story that promises two adventures for the price of one!
The main adventure builds critical thinking skills by rewarding young readers for solving puzzles and making sound choices with non-stop action and huge plot twists.
Once readers beat the video game within the book, they'll get a chance to hunt for every possible ending.
Finding all the book's endings reveals a code that readers can use to unlock a secret story online.
Related: Escape From a Video Game Series Complete Guide
Five young Minecraft players in the real world find themselves transported inside the game they love.
But now it's not a game–and they will have to use everything they know to explore, build, and survive!
Meet Bryan Biggins. Most of the time he's a freckle-faced boy, small for his age, who attends a school known for its unwritten uniform of North Face jackets and Hollister jeans.
The rest of the time he is Kieran Nightstalker, the level-fifty dark-elf hero of his favorite video game, Sovereign of Darkness.

Until one day Bryan wakes up to find out his life has become a video game. Sort of. Except instead of fighting dragons or blasting bad guys, he's still doing geometry and getting picked last for dodgeball.
It's still middle school. Only now there's much more at stake.

Stealing the Twinkie from underneath the noses of those dieting teachers isn't enough to earn him another life.
And battling the creature that escaped from the science lab doesn't seem to cut it either. And who knew Romeo and Juliet would turn into a zombie bloodbath?!

All the while he's losing hit points and gaining levels, and facing the truth that GAME OVER might flash before his eyes at any minute.
It all seems to be building to something…something that has been haunting Bryan since way before his life turned into an X-Box nightmare, a challenge that only he can face.
Will Bryan find a way to beat the game before it's too late?
Derek Fallon gets the chance of a lifetime—to participate in a gaming company focus group and to test out a new video game called "Arctic Ninja."
Together with his friends Carly, Matt, and Umberto, Derek thinks his gaming talents will be showcased.
But he soon realizes that everyone has got him beat, including whiz kid El Cid. On top of that, school reading tests have begun and Derek feels doubly off his game.
Isn't there anything he's good at?
Izzy has an incredible secret — she can enter the world of her new video game! She meets Rae, a robot who says Izzy is destined to save Dungeon City from the Big Boss. How is this possible?!
And how can she fight for this virtual world when she's got a whole real life to keep up with: her family (though she could do without her mom's annoying cat), and her best friend, Eric.
Things get even weirder when Izzy loses a life while inside the game, and she starts to worry about what might happen if she gets a Game Over for good.
Meanwhile, Eric has been super upset with Izzy since she's been keeping secrets and bailing on their plans. Can Izzy survive Dungeon City and save their friendship?
Jeremy and Justin are twins, but they couldn't be any more different from each other. Jeremy is a risk taker who likes to get his hands dirty; Justin prefers to read, focus, and get all his facts straight before jumping in.
But they do have one important thing in common: They both love video games.
When Jeremy wins a cereal-box charm that brings his favorite video game to life, villains and all, he finds that he's in way over his head.
Justin knows everything there is to know about the rules of the game—he read the handbook, of course—and Jeremy isn't afraid to try new things.
Can these two mismatched brothers work together to beat the video game that has become their life?
There's a video game tournament in this season, dude! Davy and his friends enter a gaming tournament at the mall, but things go absolutely bonkers when Fergus' new camera gets stolen.
Now Davy's gotta work overtime to find the camera and the thief while trying to keep his team from getting knocked out of the tournament.
Also – Chuck and Dutch enter a contest to win a go-kart. Krissy makes eight new friends. And Annie just wants to crush the spirits of other gamers.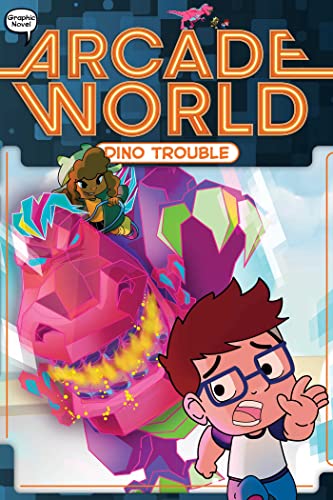 Life in Normal used to be, well, pretty normal. Kids went to school. Kids did their homework and chores after school.
And then kids met up at the local arcade, called Arcade World. Arcade World was the weirdest, coolest place. It had a collection of video games that no one had ever heard of, like Dino Trouble or Hot Dog Time.

And no one held more high scores than Travis Better and Journey West. But one day, the video games in Arcade World came alive.

Now, there's a whole new normal in town—as Normal becomes a dangerous Arcade World.

Join Travis and Journey as they race dinosaurs to school, survive bottomless pit falls, and battle aliens to level up and solve mysteries like what's going on, who really owns Arcade World, and whether this video game takeover is a glitch or part of a larger, evil plan.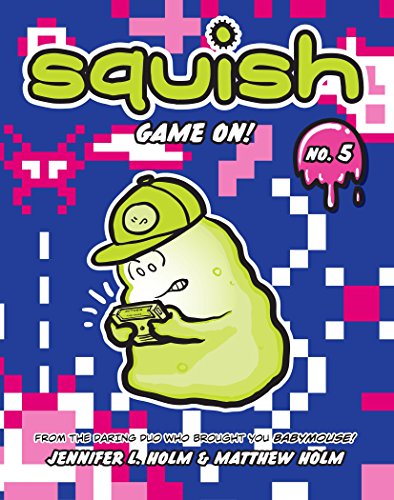 Beep! Beep! Squish can't get enough of his awesome new video game Mitosis! (Mitosis is what happens when cells divide. Who says video games can't be educational?)
In fact, he may even be obsessed! He plays at home . . . at school. . . even in his sleep!
Are video games taking over Squish's life?! And can Squish's favorite comic book hero, Super Amoeba, stop the Creeping Black Mold that's taking over Small Pond?
In twelve-year-old Reyna Cheng's world, gaming is everything. Professional esports teams are the mainstream celebrities. Kids begin training from a young age, aspiring for the big leagues.
Reyna is the up-and-coming junior amateur Dayhold gamer, competing in a VR battle royale against AI monsters and human players.
But despite Reyna's rising popularity and skills, no one knows who she is. Gaming is still a boys' club and to protect herself against trolls and their harassment, she games the mysterious TheRuiNar.
When Reyna qualifies for the Dayhold Junior Tournament, she knows she's got what it takes to win the championship title and the $10,000 prize.
It's a chance to make a step forward towards her professional esports dreams and to help her family with the costs of her mother's hospital bills.
But when she's blackmailed and threatened to be doxed by an anonymous troll, Reyna has to confront the toxic gaming community head-on.
With her dreams and the cash prize on the line, it's game on!
By day, seventeen-year-old Kiera Johnson is an honors student, a math tutor, and one of the only Black kids at Jefferson Academy.
But at home, she joins hundreds of thousands of Black gamers who duel worldwide as Nubian personas in the secret multiplayer online role-playing card game, SLAY.
No one knows Kiera is the game developer, not her friends, her family, not even her boyfriend, Malcolm, who believes video games are partially responsible for the "downfall of the Black man."

But when a teen in Kansas City is murdered over a dispute in the SLAY world, news of the game reaches mainstream media, and SLAY is labeled a racist, exclusionist, violent hub for thugs and criminals.
Even worse, an anonymous troll infiltrates the game, threatening to sue Kiera for "anti-white discrimination."

Driven to save the only world in which she can be herself, Kiera must preserve her secret identity and harness what it means to be unapologetically Black in a world intimidated by Blackness.
But can she protect her game without losing herself in the process?
Video game lover Josh Baxter knows that seventh grade at a new school may be his hardest challenge yet, but he's not afraid to level up and win!
Josh Baxter is sick and tired of hitting the reset button. It's not easy being the new kid for the third time in two years.
One mistake and now the middle school football star is out to get him. And Josh's sister keeps offering him lame advice about how to make friends, as if he needs her help finding allies!
Josh knows that his best bet is to keep his head down and stay under the radar. If no one notices him, nothing can touch him, right?
But when Josh's mom sees his terrible grades and takes away his video games, it's clear his strategy has failed.
Josh needs a new plan, or he'll never make it to the next level, let alone the next grade.He's been playing not to lose. It's time to play to win.
All twelve-year-old Jaden wants to do is be the best at Cross Ups, the video game he and his friends can't stop playing.
He knows he could be—if only he didn't have to hide his gaming from his mom, who's convinced it will make him violent.
After an epic match leads to an invitation to play in a top tournament, Jaden and his friends Devesh and Hugh hatch a plan to get him there.
But Jaden's strict parents and annoying siblings, not to mention a couple of bullies and his confusing feelings for his next-door neighbor Cali, keep getting in the way!
When videogame obsessed Pete Watson discovers his dad is not only a super-spy but has been kidnapped and is now trapped inside a video game, he has to use his super gaming skills and enter the game to rescue him.
Will he be able to save his friends and family and the entire world from giant mechanical cockroaches and a massive cyber attack set to take down the world's network?
And if he succeeds, who will save Pete from his massive crush on Callie Midwood?
The alien spaceship is in his sights. His finger is on the Fire button. Johnny Maxwell is about to set the new high score on the computer game Only You Can Save Mankind.
Suddenly: We wish to talk.
Huh?
We surrender.
The aliens aren't supposed to surrender — they're supposed to die! Now what is Johnny going to do with a fleet of alien prisoners who know their rights under the international rules of war and are demanding safe-conduct?
It's hard enough trying to save Mankind from the Galactic Hordes. It's even harder trying to save the Galactic Hordes from Mankind.
But it's just a game, isn't it? Isn't it…?
The pressure's really piling up on Greg Heffley. His mom thinks video games are turning his brain to mush, so she wants her son to put down the controller and explore his "creative side."

As if that's not scary enough, Halloween's just around the corner and the frights are coming at Greg from every angle.

When Greg discovers a bag of gummy worms, it sparks an idea. Can he get his mom off his back by making a movie . . . and will he become rich and famous in the process?
Or will doubling down on this plan just double Greg's troubles?
Related: Diary of a Wimpy Kid Books in Order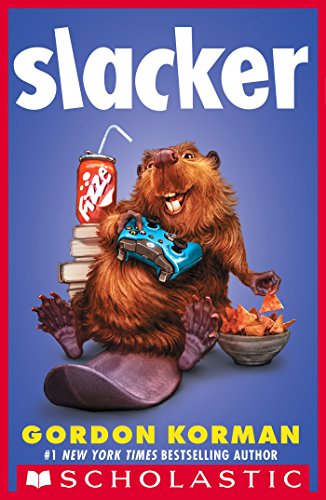 Cameron Boxer is very happy to spend his life avoiding homework, hanging out with his friends, and gaming for hours in his basement.
It's not too hard for him to get away with it . . . until he gets so caught up in one game that he almost lets his house burn down around him.Oops.
It's time for some serious damage control–so Cameron and his friends invent a fake school club that will make it seem like they're doing good deeds instead of slacking off.
The problem? Some kids think the club is real–and Cameron is stuck being president.
Soon Cameron is part of a mission to save a beaver named Elvis from certain extinction. Along the way, he makes some new friends–and some powerful new enemies.
The guy who never cared about anything is now at the center of everything . . . and it's going to take all his slacker skills to win this round.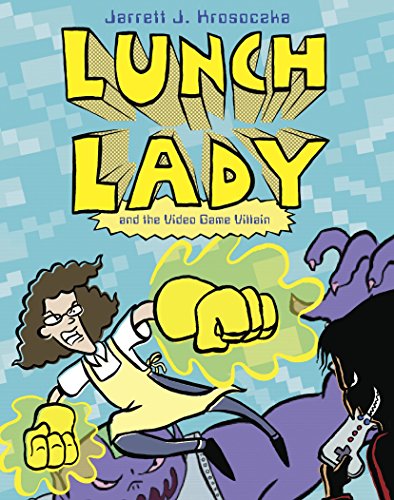 The race is on for a new student council president, and the Breakfast Bunch is rallying for Hector!
The competition is already heavy, but the race heats up when school security is at stake: student and staff high-tech gadgets are disappearing left and right.
Whoever the culprit is, this is one stealthy thief—and the school is so busy with the election that he gets away with it every time.
Luckily some of Lunch Lady's own culinary gadgets have eluded the crook, but will they be enough to catch this sticky-fingered bandit? And will Hector be able to pull off a victory?
Allie Navarro can't wait to show her best friends the app she built at CodeGirls summer camp. CLICK'D pairs users based on common interests and sends them on a fun (and occasionally rule-breaking) scavenger hunt to find each other.
And it's a hit. By the second day of school, everyone is talking about CLICK'D. Watching her app go viral is amazing. Leaderboards are filling up!
Everyone's making new friends. And with all the data Allie is collecting, she has an even better shot at beating her archenemy, Nathan, at the upcoming youth coding competition.
But when Allie discovers a glitch that threatens to expose everyone's secrets, she has to figure out how to make things right, even if that means sharing the computer lab with Nathan.
Can Allie fix her app, stop it from doing any more damage, and win back the friends it hurt–all before she steps on stage to present CLICK'D to the judges?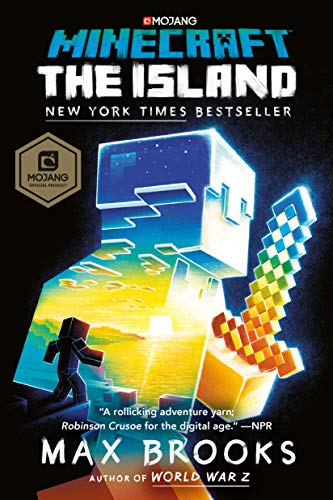 Washed up on a beach, the lone castaway looks around the shore. Where am I? Who am I? And why is everything made of blocks?
But there isn't much time to soak up the sun. It's getting dark, and there's a strange new world to explore!

The top priority is finding food. The next is not becoming food. Because there are others out there on the island . . . like the horde of zombies that appears after nightfall.
Crafting a way out of this mess is a challenge like no other. Who could build a home while running from exploding creepers, armed skeletons, and an unstoppable tide of hot lava?
Especially with no help except for a few makeshift tools and sage advice from an unlikely friend: a cow.

In this world, the rules don't always make sense, but courage and creativity go a long way.
There are forests to explore, hidden underground tunnels to loot, and undead mobs to defeat. Only then will the secrets of the island be revealed.
The Queen of England calls on Mac B. once again! This time, Mac must crack a secret code that has been recovered from a double agent.
A series of clues leads Mac to France, and then to Japan, where he comes face-to-face with his arch-nemesis, the KGB man… and the world headquarters of Nintendo!
Is the KGB Man secretly behind all of this? And are Mac's video game skills good enough to facedown his enemy at the Video Game World Championships?
With Mike Lowery's signature illustrations on every page, historical facts woven throughout, and of course intrigue, history, hilarity and more, catch the latest in this totally smart, wholly original, side-splittingly funny series from the wildly talented author Mac Barnett.
What if playing video games was prepping you to solve an incredible real-world puzzle and locate a priceless treasure?

Twelve-year-old Ted Gerson has spent most of his summer playing video games. So when his great-uncle dies and bequeaths him the all so-called treasure in his overstuffed junk shop of an apartment, Ted explores it like it's another level to beat.
And to his shock, he finds that eccentric Great-Uncle Ted actually hasset the place up like a real-life escape-the-room game!

Using his specially honed skills, Ted sets off to win the greatest game he's ever played, with help from his friends Caleb and Isabel.
Together they discover that Uncle Ted's "treasure" might be exactly that—real gold and jewels found by a Japanese American unit that served in World War II.
With each puzzle Ted and his friends solve, they get closer to unraveling the mystery—but someone dangerous is hot on their heels, and he's not about to let them get away with the fortune.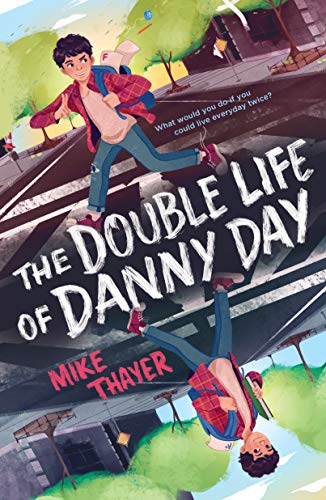 My name is Danny Day, and I live every day twice.

The first time, it's a "discard day." It's kind of like a practice run. At the end of the day, I go to bed, wake up, and poof everything gets reset, everything except my memory, that is.

The second time, everything is normal, just like it is for everyone else. That's when everything counts and my actions stick. As you could probably guess, "Sticky Day" Danny is very different from "Discard Day" Danny.

When Danny's family moves across the country, he suddenly has to use his ability for more than just slacking off and playing video games.
Now he's making new friends, fending off jerks, exposing a ring of cheaters in the lunchtime video game tournament, and taking down bullies one day at a time … or is it two days at a time?
Ever wonder what it would be like to be a Minecraft Zombie?

In the first book of this hilarious Minecraft adventure series, we get to read the diary of an actual 12 year old, Minecraft Zombie.
Take a peek at what is really going on between the hollow eyes, and dead expression that we normally see when we face the dreaded Zombies of Minecraft.

Are Zombies really different from us? You'll be surprised at what you discover. So, jump into this Minecraft adventure and find out!.
Super Rabbit Boy is the strongest, bravest, fastest animal in all the land…and he's also the star in a video game!
Uh-oh, Animal Town is in trouble! Meanie King Viking has created a dreaded robot army to spread No Fun across the land.
On top of that, he has stolen the happiest and most fun animal ever, Singing Dog. There is only one person who can save the day — Super Rabbit Boy!
Super Rabbit Boy is super fast and super brave, but he's also a video game character living in a video game world.
What will happen when Sunny, the boy playing the game, loses each level? Will it be game over for Super Rabbit Boy and all his friends?
On rainy days, Jack loves nothing more than playing video games. But when lightning strikes and Jack finds himself trapped inside his favorite game, will he find a way out before it's game over?
Too cool for school . . . or the least groovy girl in the grade? Sunny's just made it to middle school . . . and it's making her life very confusing.
All her best friend Deb wants to talk about is fashion, boys, makeup, boys, and being cool.
Sunny's not against any of these things, but she also doesn't understand why suddenly everything revolves around them.
She's much more comfortable when she's in her basement, playing Dungeons & Dragons with a bunch of new friends.
Because when you're swordfighting and spider-slaying, it's hard to worry about whether you look cool or not.
Especially when it's your turn to roll the 20-sided die. Trying hard to be cool can make you feel really uncool . . . and it's much more fun to just have fun.
Sunny's going to find her groove and her own kind of groovy, with plenty of laughs along the way.
Welcome to Stately Academy, a school which is just crawling with mysteries to be solved!
The founder of the school left many clues and puzzles to challenge his enterprising students.
Using their wits and their growing prowess with coding, Hopper and her friend Eni are going to solve the mystery of Stately Academy no matter what it takes!
Greetings, boys and girls, gamers of all ages–are you ready to play Mr. Lemoncello's BIGGEST, most dazzling game yet?
After months of anticipation, Mr. Lemoncello is taking his games out of the library and going LIVE across the nation on the world-famous Kidzapalooza Television Network!
Everyone's invited to audition, but only a lucky few will be chosen to compete in front of millions of viewers in a brand-new, completely immersive live-action breakout game–with real kids as the playing pieces! Kyle Keeley is determined to be one of them.

Each of the winning teams must make it through five different rooms in Mr. Lemoncello's fantastic new Fictionasium by solving a puzzle to unlock each room and, in the end, break out of the library!
But nothing is ever as it seems with Mr. Lemoncello, and the surprises in store just might stump even the game master himself.
Can Kyle break out of his own expectations–and win Mr. Lemoncello's ultimate game show?
In Trouble at the Arcade, nine-year-old Frank and eight-year-old Joe Hardy discover trouble lurking at the local arcade and decide they make pretty good detectives—just like their dad!
Everyone in River Heights has shown up to watch Katie McCabe try to beat the world record for the Dance-A-Thon game.
Judges are coming to the arcade to see how quickly she can spin across the electronic dance floor and how many points she can win.

But just as Katie's about to get ready, she notices her lucky headband has gone missing! She always wears the blue, sparkly headband when she competes and knows she'll bomb without it.
Luckily, Nancy takes her Clue Book everywhere. Nancy, Bess, and George are on the case! Who is sabotaging Katie's big day?
Could it be the owner of the rival arcade, Michael Parker, who wanted the judges to see his world record sock attempt?
Or May Bensen, the current Dance-A-Thon record holder? It's up to the Clue Crew—and you—to find out!
Trapped in a 80's era haunted video arcade, Midnight Arcade is a play-your-way adventure tale in which the reader determines the course of action, ultimately controlling whether they live . . . or die!

After climbing a fence near an abandoned mall, you discover a derelict video arcade managed by a ghostly attendant.
Presented with a magical game token, you select one of two games you wish to play, the eerie Crypt Quest or the flashy Space Battles.
Once you place the token in the slot, you have to make choices to advance through the games and your decisions control whether you beat the game, or die.

Both games feature unique villains and life-like game play that will delight readers, and the most important choice in either game for those now trapped inside them, is the one that will keep them alive.
Meet Timmy, a lovable monster who can't get enough of the coolest gadgets and video games. Too bad he doesn't realize how much time he spends each day in front of a screen.
Using the "Time-Telling" and "ST4" techniques developed by Dr. Raun Melmed of the Melmed Center in Arizona, Timmy's Monster Diary teaches kids how to self-monitor the amount of time they spend on technology.
Timmy's hilarious doodles and diary entries chronicle his delightful adventures, misadventures, and eventual triumph in a funny, relatable way. It's the one book that kids will want to turn off the TV and read!

Timmy's Monster Diary also includes a resource section to help parents and teachers implement Dr. Melmed's methods, plus ST4 reminders that kids can remove, color, and place around the house.
Founded in 1889, Nintendo started out as a small playing card company in Japan.
Though the cards sold well, Nintendo really became popular when it began creating toys in the 1960s, and then became internationally renowned after developing video games and consoles in the 1970s and '80s.
After introducing the world to some of the best-known and top-selling video game franchises of all-time, such as Super Mario Bros., The Legend of Zelda, Animal Crossing, and Pokémon, it's clear to see why Nintendo is beloved by parents as a company that creates non-violent, family-friendly entertainment for kids.
Do you think these books about video games will entice your tween reader? Share your favorites in the comments below or share any I've missed!
Related Book Lists:
Discover the Best Chapter Book Series for Tweens!
Pin This for Later: