Don't miss the Stinkbomb and Ketchup Face book series if your tween reader is looking for some laugh-out-loud funny books.
The Stinkbomb and Ketchup Face chapter books are a guaranteed good time and we've got the ultimate guide to all the Stinkbomb and Ketchup Face books in order so you don't miss a single one.
*Disclosure: I participate in the Amazon Affiliates program so if you click an affiliate link and make a purchase, I make a small commission at no extra cost to you.
I can still picture the smile on my kiddo's face and hear the laughs coming from his mouth when he started reading the Stinkbomb and Ketchup Face books.
We actually read them together so I was laughing right along with him. Trust me when I say this was one chapter book series I really enjoyed reading with my tween reader and highly recommend.
Who is the Author of the Stinkbomb and Ketchup Face Books?
John Dougherty is the author of the Stinkbomb and Ketchup Face books which he based on his own two kids.
What are the Stinkbomb and Ketchup Face Books About?
The Stinkbomb and Ketchup Face books are about two siblings, Stinkbomb and Ketchup Face, who go on exciting adventures to Great Kerfuffle and get into all kinds of mischief.
Who Would Enjoy Reading the Stinkbomb and Ketchup Face Books?
Anyone who loves to laugh and read books full of ridiculousness and fun adventures will enjoy the Stinkbomb and Ketchup Face books.
Stinkbomb and Ketchup Face Recommended Reading Level:
Recommended Reading Ages: 8-12
Recommended Reading Grades: 3-7
How Many Stinkbomb and Ketchup Face Books are in the Series?
There are seven books in the Stinkbomb and Ketchup Face series. They can be difficult to find so it's easiest to order the 6 book collection and then buy book seven seperately.
Stinkbomb and Ketchup Face Books in Order:
Stinkbomb and Ketchup Face 6 Book Collection
Stinkbomb and Ketchup Face Books in Order with Publisher Descriptions:
Welcome to the kingdom of Great Kerfuffle!
Great Kerfuffle is really great. And there's usually a kerfuffle (the clue's in the name really). This particular kerfuffle started the day Stinkbomb's twenty dollar bill went missing.
Stinkbomb and his little sister Ketchup-Face know exactly who took it: the badgers. After all, they're called badgers because they do bad things; otherwise they'd just be gers.

They bring news of the badgers' treachery to King Toothbrush Weasel (don't get us started on the story behind his name…), who sends them on a quest to rid the land of badgers.
What follows is a full on kerfuffle-fest, containing: one deep dark forest, a grocery cart in distress, a song about jam–and, of course, a band of very tricky badgers.

Be prepared to laugh your socks off, and maybe your ears, too.
The villainous badgers have escaped from prison, and it's up to Stinkbomb and Ketchup-Face to find them and put them back!
Only someone who knows about stories can point them in the right direction, so they consult Miss Butterworth, the Ninja Librarian.

After referring to a copy of Stinkbomb and Ketchup-Face and the Quest for the Magic Porcupine, Miss Butterworth sends them on their quest.
Along the way they encounter raccoons who are definitely NOT badgers in disguise, a really REALLY long traffic light, a rabbit in a prickly coat, and a banana-eating hammerhead shark, all leading to a showdown with the badgers.
Can the kids think fast enough to save the king from being shot out of the biggest water rocket in the world? We don't know. But we're going to read it and find out!
Psst! Psst! Psssssst!!! OI, YOU!! Do you want to know a secret? Well? Do you? It's a good one . . . honest. You'll never believe it.
It's so unbelievably unbelievable and soooooo secret. You have to promise not to tell ANYONE. Well? Do you? Cross your heart and hope to die (or at least pass out for a few minutes). OK . . . here goes. You know those badgers? You'll never guess what they've been up to this time . . .

With more twists and turns than a pizza delivery guy on an oil slick, this amazing adventure will leave you hungry for more (pizza) . . .
Ssh! Keep the noise down! Shut Uuuuuppp!!! Thanks . . . There are strange things happening on the island of Great Kerfuffle. Listen carefully . . . can you hear that humming noise? It's getting louder . . . and louder . . . it's coming this way!
I think we'd better LEG IT!! Oh, hang about, here come our heroes, Stinkbomb and Ketchup-Face to save us.
They're sure to know what's beehind all this strange beehaviour. Let's hope they don't buzz off beefore the end of the story!
Warning: This book contains nickers . . . but NOT the frilly kind! It's summertime in Great Kerfuffle and Stinkbomb and Ketchup-Face are off to the Loose Chippings library.
But right in the middle of chapter seven, they suddenly find themselves in chapter nine!! What the heck is that all about?
With Ninja Librarian, Miss Butterworth, trapped in chapter eight, our intrepid heroes journey through a bizarre collection of stories, meeting various pirates, zombies, animals, and Draxxar the Doombringer, in their quest to find their friend.
But who on earth could be behind this evil and wicked story mix-up? Well, I'll give you a clue, they're stripy, they're black and white, and they're definitely NOT zebras . . .
More fun than your average elf! The perfect book to get you in the mood for all the madness of Christmas! Christmas! A time of peace and goodwill . . . and presents!
But something's not right in Great Kerfuffle – instead of peace there's mayhem, and instead of goodwill there's evil and wickedness. And instead of presents, there's . . . NO PRESENTS!
Stinkbomb and Ketchup-Face have been extra good this year so they know Father Christmas wouldn't forget them. Something must have happened to him – and now it's up to them to save Christmas (or at least find their presents!).
There is something cheesy going on in the kingdom of Great Kerfuffle!

The rascally BADgers have escaped from jail again and they made an amazing discovery–a pizza mine! They love eating it, of course, and selling it to make money to fund their villainous plots.
But there's a big problem: the Loose Pebbles library is tipping over without all that pizza to hold it up. And if it tips any farther, the entire island of Great Kerfuffle will flip over into the ocean!

So it's up to Stinkbomb and Ketchup-Face to save the day. But even with a shopping cart disguised as a horse, secret agent sunglasses, and an elephant who walks by at just the right moment, a surprise that's bigger and badder than ever throws them for a loop.

Will the island of Great Kerfuffle be no more? We can't tell you, because that would spoil the story!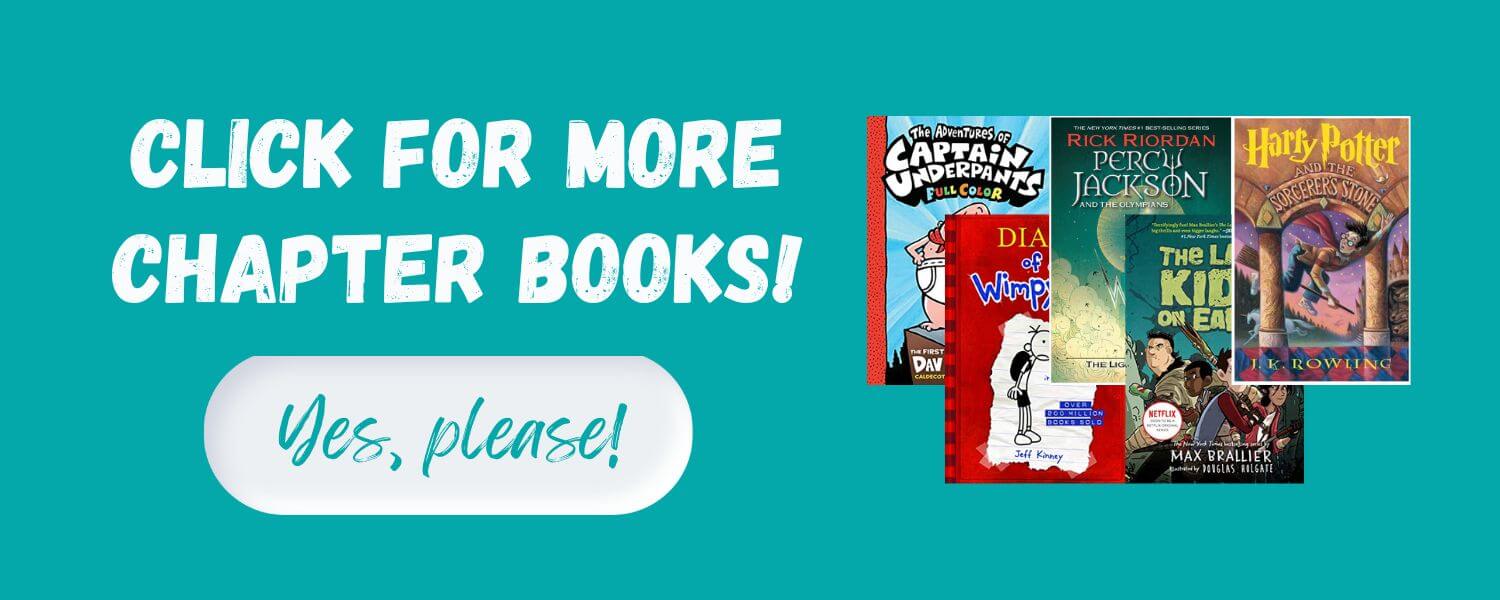 Related Book Lists:
Pin This For Later: