Calling all Marvel fans – you're going to want to read all of the Moon Girl and Devil Dinosaur books before watching the new Moon Girl and Devil Dinosaur series on Disney+.
Check out this complete guide to the Moon Girl and Devil Dinosaur series so you don't miss a single volume of this must-read comic series!
We've got all the Moon Girl and Devil Dinosaur books in order plus frequently asked questions below including recommended reading level and more.
*Disclosure: I participate in the Amazon Affiliates program so if you click an affiliate link and make a purchase, I make a small commission at no extra cost to you.
Moon Girl and Devil Dinosaur Books in Order:
Get Comixology Unlimited: Start Your 30 Day Free Trial
Read this series and more comics, graphic novels and manga with Comixology Unlimited. Try it today with a 30-day free trial!
Moon Girl and Devil Dinosaur TV Series on Disney:
After reading all 9 volumes of Moon Girl and Devil Dinosaur, be sure to check out the TV series on Disney+ and The Disney Channel which releases February 15, 2023.
Moon Girl and Devil Dinosaur Books with Publisher Descriptions
Collects Moon Girl and Devil Dinosaur #1-6.
Lunella Lafayette is a preteen genius who wants to change the world, but lives in fear of the Inhuman genes inside her!
Now, Lunella's life is turned upside down when a red-scaled beast is teleported from the prehistoric past to a far-flung future we call…today!
Together they're the most Marvelous Team-Up of all — Moon Girl and Devil Dinosaur! But will they be BFFs forever, or just until DD's dinner time?
And Lunella soon learns that there are other problems with having a titanic T-Rex as a pet in the modern-day Marvel Universe.
School, for one. Monster hunters are another — especially when they're the Totally Awesome Hulk! Then there's the fact that everyone's favorite dino didn't journey through time alone.
Beware the prehistoric savages known as the Killer-Folk — New York City's deadliest tourists!
Collects Moon Girl and Devil Dinosaur #7-12.

She's been so busy worrying about the Terrigen Cloud turning her Inhuman, Lunella Lafayette might instead fall prey to…Cosmic Cooties?!
Because when a new boy moves to town from far, far away, he's oddly interested in her. Meanwhile, the most wanted T. rex in NYC is running out of places to lie low — a problem that won't get any easier when our darling duo undergo a body swap!
It's a big change-up that will see Luna spending a freaky Friday (or whatever day it happens to be) as Devil Dinosaur, and vice versa!
Will Luna evade capture? Will DD get a passing grade? And who exactly is Moon Girl's new 9-year-old archnemesis, Kid Kree? Luna's got a huge future in the Marvel Universe, if only she can survive the present!
Collects Moon Girl and Devil Dinosaur #13-18.

Tony Stark, Reed Richards, Victor von Doom, T'Challa, Amadeus Cho…the greatest minds in the Marvel Universe all have one thing in common: they're not smarter than a 4th grader!
That's right, the rumors are true – Lunella Lafayette is the smartest there is! Now it's time to put her unrivaled intellect to the ultimate test.
Thankfully her best friend, Devil Dinosaur, is thirty feet of mutated prehistoric muscle, making for the perfect combination of brains and brawn! And they're going to need it to stand up to some of the worst villains the world has to offer – and maybe even one of the greatest heroes!
Because, while Reed Richards, the guy who used to be the cleverest one around, is away, his best pal Benjamin J. Grimm is here to defend his pole position!
Collects Moon Girl and Devil Dinosaur #19-24.

Journey to the Living Planet! It's Lunella Lafayette's biggest adventure yet as a voice from the cosmos beckons her and Devil Dinosaur on a truly fantastic voyage — an Ego trip, if you will!
Are you ready for Moon Girl to meet…Girl-Moon? Lunella isn't just smart, she's the smartest person on Earth — but what good is that when the problems she faces are intergalactic?
And if our incredible adventurers make it back to Earth, they might find things a little different than they remember. What happened to Yancy Street? And who are Devil Girl and Moon Dinosaur?!
And when the duo is thrown through time, the era they arrive in could give Devil the hardest choice of all — and leave Moon Girl scouring the Marvel Universe for a new partner!
Collects Moon Girl And Devil Dinosaur #25-30.

When the Silver Surfer comes to Manhattan with a warning about an ancient cosmic menace on a collision course with Earth, you'd better listen up!
But without the First Family of the Marvel Universe around to answer the call, who's going to step up and solve the impossible? Lunella Lafayette, that's who!
Without Devil Dinosaur by her side, Lunella must join forces with some new friends who are missing their pals, too: the Human Torch and the Ever-Lovin' Blue-Eyed Thing!
You don't want to miss the debut of the Fantastic Three! Galactus and the Silver Surfer certainly won't! But who will join the ranks of Lunella's group to complete a truly awesome foursome?
Collects Moon Girl and Devil Dinosaur #32-36.

It's time to cry S.O.S. — Save Our School! New York City has a new mayor, and his name is…Wilson Fisk! Yes, the Kingpin is in charge of the Big Apple, including the Department of Education! But he won't be running it alone: meet your new favorite Marvel character, Princess Fisk! What is her tragic past?
Meanwhile, Lunella's problems are all in the present. For one, if she's so smart, why can't she unravel the genetic mystery that keeps swapping her brain with a 40-foot-tall T. Rex?
Then, the DOE citywide exam is getting closer — and everyone is counting on Lunella to keep P.S. 20 at the top of the class! And to make matters worse, now her cousin has come to visit!
Meet Devin Dinosaur! And what happens when the Wrecking Crew strikes?
Collects Moon Girl and Devil Dinosaur #37-41.

Bad dreams for Moon Girl and Devil Dinosaur! Eight hours of sleep usually means a full night's rest — but now Lunella and Devil face a fight to stay out of the Dream Dimension, a place at the edge of our subconscious where all manner of monsters dwell!
What fearsome fiends lay within the unconscious mind of a 65-million-year-old thunder lizard? Or worse yet, a 9-year-old super-genius?!
As Moon Girl and Devil traverse the Dreamscape, all is revealed about their host, Bad Dream — and he isn't what you think!
Doctor Strange lends a mystic hand, and Lunella's adventures in slumberland catch the attention of the sultan of snoozetime, Sleepwalker!
But the team-ups don't end there. Lunella is about to meet the original kid hero himself: Spider-Man!
Collects Moon Girl And Devil Dinosaur #42-47.

The War of the Realms comes to the Lower East Side! Lunella and Devil meet the original kid hero, Spider-Man! And if that isn't amazing enough, wait until the War of the Realms breaks out!
With Manhattan frozen solid and Frost Giants prowling the streets, Devil must keep the peace — while Moon Girl encounters Thor!
Then, it's a real family crisis! With time and space fractured, Lunella and Devil will have to team up with younger versions of her parents and grandparents — all without erasing Lunella from history! Maybe Doctor Strange can help!
Plus: Exactly what trouble does Devil Dinosaur get into while Moon Girl is stuck in class? And — at last — the biggest battle of brains in the Marvel Universe! It's Reed Richards vs. Lunella Lafayette — and it'll be Fantastic!
Collects Moon Girl And Devil Dinosaur #24 and #31, Venom (2016) #153, Monsters Unleashed (2017b) #12, The Moon Girl Marvel Legacy Primer And Material From Extraordinary X-Men Annual #1.

Lunella Lafayette makes new friends across the Marvel Universe! The smartest one of all takes it upon herself to solve the Terrigen crisis threatening the X-Men!
And when Venom has a Stegron the Dinosaur Man problem, Moon Girl and Devil Dinosaur will lend a hand (or claw)! But when Big Red exits Lunella's life, she needs a new partner!
Who will it be? Ghost Rider? Daredevil? The X-Babies?! Maybe Kid Kaiju would be a better fit — but he needs help understanding his own monster army!
Plus, when the vile Swarm has Lunella's school hooked on cigarettes, it's up to her and her faithful dino pal to butt them out!
Frequently Asked Questions About Moon Girl and Devil Dinosaur:
What Is Moon Girl and the Devil Dinosaur About?
Moon Girl and Devil Dinosaur follows Lunella Lafayette, a preteen genius with Inhuman genes who wants to save the world.
With the help of a T. Rex, Devil Dinosaur, who she teleports to the present from prehistoric times, the two battle evil and join forces with different Marvel characters along the way.
Who Would Enjoy the Moon Girl and Devil Dinosaur Books?
Any tweed readers who love comics and dinosaurs would of course love Moon Girl and Devil Dinosaur. Readers who also love strong female characters, daring adventures and the Marvel Universe will also love these comics.
How Many Volumes of Moon Girl and the Devil Dinosaur are There?
There are currently 9 volumes in the Moon Girl and Devil Dinosaur series.
How Many Pages are in the Moon Girl and Devil Dinosaur Books?
Each volume is between 100-150 pages.
Moon Girl and Devil Dinosaur Recommended Reading Level:
Recommended Reading Age: 9+
Recommended Reading Grade: 4+
Do you have a favorite Moon Girl and Devil Dinosaur volume? Share in the comments below!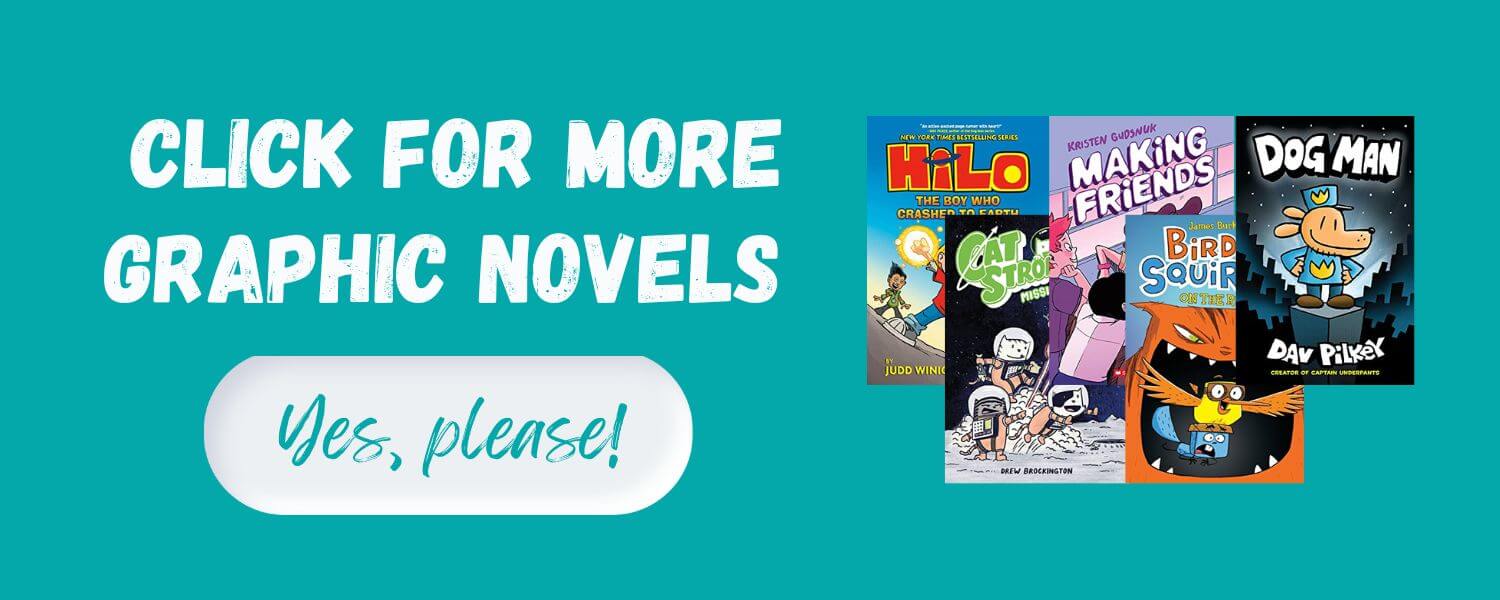 Related Book Lists:
Pin This for Later: