Check out our book list of all the Kitty Quest books in order if you love graphic novels or are a fan of series like the Dog Man series or the Cat Kid Comic Club series!
These crazy kitties are sure to delight tween readers who love to laugh and we've got the complete guide to the Kitty Quest series and the most frequently asked questions about the Kitty Quest books.
*Disclosure: I participate in the Amazon Affiliates program so if you click an affiliate link and make a purchase, I make a small commission at no extra cost to you.
Kitty Quest Books in Order:
Kitty Quest Books in Order with Publisher Descriptions:
Kitty Quest Book 1
Woolfrik and Perigold are two down-on-their-luck kittens in need of some extra cash, so they've decided to become professional monster slayers.
Except they don't know the first thing about it! So when a huge beast starts rampaging through town, they are put to the ultimate test.
Fortunately, the duo accidentally awakens a ghost named Earl Mortimore, who is the last not-so-living member of an ancient guild of warriors, and he's going to teach them everything he knows.
But the monster is just the beginning of their worries, because someone even more troublesome is pulling its strings.
So even though they've never been in a battle–or even gone on a real quest before–it's up to these kittens to save the day and prove they've got what it takes to be heroes.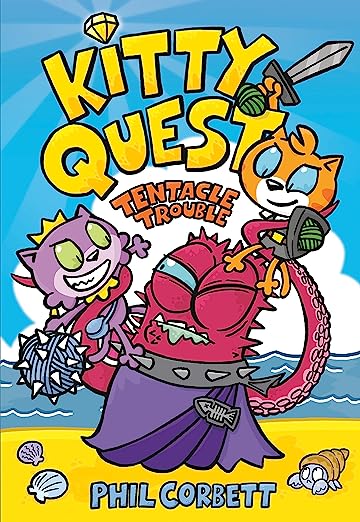 Kitty Quest Book 2
The islands of Pawdor are in peril once again! Ferocious sea monsters have been spotted on shore, and the townsfolk are in a complete panic.
Luckily, there's a new guild of heroes known as Kitty Quest that's ready to protect the land.
So what if Woolfrik and Perigold are its only members (besides their mentor who's a ghost), and it's just their second week on the job? They may be all that stands in the way of an invasion!
But how are these two amateur heroes supposed to stop a whole army of tentacled beasts?
It may just take some quick thinking, a whole lot of luck, and a little help from the most unexpected of places.
In order to save all of kitty-kind, Woolfrik and Perigold are going to have to learn to work together and prove that two heads are better than one.
Kitty Quest Book 3
Kitty Quest is on high alert because there's a new villain coming to town: Princess Horribelle of Awfullia. (A place so terrible, it's where the word awful comes from!)
And she's travelled all this way to visit her big sister Scarygold…who now goes by the name Perigold. Yes, as it turns out, our young heroine is actually heir to the throne of a wretched kingdom.
Never wanting to be bad herself, Perigold completely left that life behind (well, except for that nifty crown she's always wearing) in hopes of starting over in Pawdor.
Not knowing what she could be up to, Woolfrik and Perigold have no choice but to meet up with the princess.
But things take a turn for the worse when an old nemesis with a big grudge against Kitty Quest shows up.
Will Horribelle's visit end in an innocent family reunion, or does she have something far more sinister up her sleeves?
Frequently Asked Questions About the Kitty Quest Books:
Who is the Author of the Kitty Quest Books?
Phil Corbett is the author of the Kitty Quest book series.
What is the Kitty Quest Series About?
The Kitty Quest series is about two kittens who decide to become professional monster slayers even though they nothing about it!
How Many Books are in the Kitty Quest Series?
There are currently three books in the Kitty Quest series.
Who Would Enjoy the Kitty Quest Books?
Any tween reader who loves graphic novels, stories that make you laugh, and books about adventure and cats!
What is the Recommended Reading Level for the Kitty Quest Books?
Kitty Quest Books Recommended Reading Age: 7-10
Kitty Quest Books Recommended Reading Grades: 2-5
Related Book Lists:
Discover the Best Chapter Book Series for Tweens!
Pin This for Later: