Discover a magical book series perfect for tweens who adore fantasy in The Spiderwick Chronicles. This book list is your ultimate guide to The Spiderwick Chronicles books in order and all the fun activities and additional books that accompany the series.
*Disclosure: I participate in the Amazon Affiliates program so if you click an affiliate link and make a purchase, I make a small commission at no extra cost to you.
What are the Spiderwick Chronicles Books About?
The Spiderwick Chronicles is a series of fantasy books that follow the adventures of the Grace children, twins Simon and Jared and older sister Mallory.
Upon moving into the Spiderwick Estate, the children discover their great-uncle's field guide which opens to a world of fairies.
The first book in The Spiderwick Chronicles, The Field Guide, released in 2003 and was followed by four additional books as well as an accompanying series, Beyond the Spiderwick Chronicles.
In celebration of the series' 20th anniversary, The Spiderwick Chronicles is releasing new covers in February 2023, which you can see below.
Who Will Enjoy the Spiderwick Chronicles Books?
Tween readers who love fantasy, family adventures, and mythical creatures will enjoy The Spiderwick Chronicles series.
The Spiderwick Chronicles Reading Level:
Recommended Ages: 7-10
Recommended Grades: 1-5
The Spiderwick Chronicles Movie
Due to the popularity of The Spiderwick Chronicles, Nickelodeon Movies produced a movie with Freddie Highmore in 2008.
A Spiderwicks Chronicles video game was also released that same year.
The Spiderwick Chronicles TV Series: Coming to Disney+
In February 2022, Disney+ announced that The Spiderwick Chronicles television series was officially heading into production.
Ironically, it is being filmed in the same location where the Disney+ Percy Jackson series is being filmed.
Fans can expect a 2023 release date for The Spiderwick Chronicles series.
While authors Tony DeTerlizzi and Holly Black consulted on the show, it is being reimagined by the showrunner, Aron Eli Coleite.
What You'll Find on this List
Below you will find the following in this book list:
The Spiderwick Chronicles Books in Order:
Beyond the Spiderwick Chronicles Books in Order:
Extra Spiderwick Chronicles Books:
The Spiderwick Chronicles Books in Order With Publisher Descriptions:
Publisher's Description:
After finding a mysterious, handmade field guide in the attic of the ramshackle old mansion they've just moved into, Jared; his twin brother, Simon; and their older sister, Mallory, discover that there's a magical and maybe dangerous world existing parallel to their own—the world of faerie.

The Grace children want to share their story, but the faeries will do everything possible to stop them.
Publisher's Description:
Thanks to the mysterious field guide left behind by their long-lost great-great-uncle, Arthur Spiderwick, life for the Grace kids—Jared, Simon, and Mallory—is beyond weird.
When Simon goes missing, Jared believes creatures from the faerie world have something to do with it. Mallory is not convinced.
That is, until she and Jared contend with a band of menacing, marauding goblins. Simon is clearly in danger, and it's up to Mallory and Simon to save him before it's too late.
Publisher's Description:
Siblings Jared, Mallory and Simon, having escaped goblins and trolls, are now being harassed by a house boggart.
Mallory thinks the only way to stop the madness is to get rid of the Guide. And the only person who can help them is their strange old Aunt Lucinda.
Publisher's Description:
First a pack of vile, smelly goblins snatch Simon. Then a band of elves try to entrap Jared.
Why is the entire faerie world so eager to get their hands on Spiderwick's Guide? And will the Grace kids be left alone, now that the Guide has mysteriously disappeared? Don't count on it.
At school, someone is running around pretending to be Jared, and it's not Simon. To make matters even worse, now Mallory has disappeared and something foul in the water is killing off all the plants and animals for miles around.
Clues point to the old abandoned quarry, just outside of town. Dwarves have taken over an abandoned mine there.
And the faerie world's abuzz with the news that a creature with plans to rule the world has offered them a gift to join with him — he's given them a queen.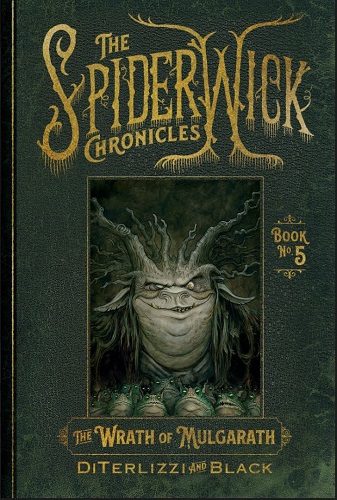 Publisher's Description:
Bruised and battered, Jared , Simon, and Mallory return home to find the mansion ransacked and learn that Mulgarath has made off with both the Spiderwick Guide and their mother!
With only the help of Thimbletack, Hogsqueal, and Byron, the Grace kids have to defeat Mulgarath and his goblin army. But before they can face Mulgarath, they'll have to rescue Arthur Spiderwick from Lorengorm and the elves.
Beyond the Spiderwick Chronicles Books in Order with Publisher Descriptions
Publisher's Description:
The Spiderwick Chronicles leave the old-fashioned charm of New England far behind and head south for some fiendish faerie fun in the hot Florida sun.
Eleven-year-old Nicholas Vargas only thinks his life has been turned upside down after his developer father remarries and moves his new wife and daughter into the soon-to-be completed Mangrove Hollow.

But an "expedition" to a nearby lake turns up a little nixie with a giant problem – the huge, lumbering, fire-breathing variety – and it's up to Nick; his stepsister, Laurie; and his big brother, Julian (plus a familiar face from the original Spiderwick Chronicles) to figure out the best way to stop a host of rampaging giants before all of Florida goes up in smoke.
Publisher's Description:
Talk about out of the frying pan, into the fire! I was pretty sure that my freaky stepsister and that freaky field guide of hers would ruin my life.
But now it looks like they're going to ruin all of Florida, too! Okay, maybe that's not fair.
Maybe all these stupid giants would be waking up anyway, but if it wasn't for her and that book, I'd be home playing video games and this would be someone else's giant problem!
Publisher's Description:
In the final installment of Beyond the Spiderwick Chronicles, Nick and Laurie had thought they solved their giant problems when they drove all the giants into the sea.
But now, the Grace kids have come back to tell them they may have more trouble coming their way!

It turns out the giants control the population of Hydra, a dragon like creature that is creating sinkholes all over Florida.
But with the mermaids refusing to return the giants to the shore, the nixie's still missing and the threat of a destroyed Florida drawing closer, the kids have to take matters in their own hands.

Will Nick and Laurie be able to stop the destruction they unwittingly caused? Can a new giant hunter help save the day?
Can Arthur Spiderwick's Field Guide help them out of this or are they on their own?
Extra Spiderwick Chronicles Books
Publisher's Description:
It all began with a strange, mysterious correspondence left for authors Tony DiTerlizzi and Holly Black at a small New England bookstore.
Written by three siblings, the letter told of their great-great-uncle Arthur Spiderwick and an unfinished tome filled with eyewitness accounts of creatures otherwise thought to be the stuff of legend.
In the #1 New York Times bestselling serial the Spiderwick Chronicles, readers were enthralled by the account of the those siblings, Jared, Simon, and Mallory Grace, as they battled dwarves, goblins, elves, and a diabolical ogre in their efforts to hold on to their uncle Spiderwick,s life work.
Now, through the combined efforts of the Grace children and authors Tony DiTerlizzi and Holly Black, Simon & Schuster is thrilled to present that work to you!
Beginning with a thoughtful and informative introduction, progressing through six exhaustive sections featuring thirty-one faerie species, and culminating with an addendum that includes observations supplied by Jared Grace, this long-awaited compendium to the worldwide Spiderwick phenomenon delivers enough information to satisfy even the most demanding faerie enthusiast.
Not only will readers learn the habits and habitats of the fourteen fantastical creatures featured in the New York Times, USA Today, and Publishers Weekly bestselling chapter books, but they will be delighted and astonished by an additional seventeen creatures.
Also included are dozens of snippets from Arthur Spiderwick,s personal journal as well as cameos from a few series favorites.
Publisher's Description:
This handy interactive storybook features seventeen mini-adventures collected from faerie watchers around the globe as well as plenty of pages for readers to add their own stories, maps, charts, notes, lists, diagrams, and drawings.
So get ready to embark on your own faerie adventure — all you need is an observant eye and an open mind. Just keep your wits about you. After all… their world is closer than you think….
Publisher's Description:
Many would have you believe that sprites (or "fairies" as they're often called) are sweet and pretty and ultimately peaceful creatures.
But don't let the carefree nature of these dazzling beguilers fool you. Because while they do make for awesome pets (or, if you prefer, companions), these are not creatures to be handled lightly.
So forget everything you know — or think you know — about sprites, and listen to the experts from the International Sprite League as they, with the assistance of the creative team that brought you the bestselling Spiderwick Chronicles, provide a resource that will prove to be as essential for the novice sprite keeper as a strong cage and eyes in the back of his or her head.
Publisher's Description:
Thimbletack, the house boggart of the Spiderwick residence guides readers through the history of the estate with the help of pullouts, pop-ups, fold-outs, and more, in an interactive title enhanced with never-before-seen original art, photographs, and sepia-colored images.
Publisher's Description:
When Jared, Simon, and Mallory Grace moved into their great-great-uncle Arthur Spiderwick's estate, they had no idea what awaited them, but after meeting the house brownie, Thimbletack, the children learn they are in great danger from the fantastical world of faeries, goblins, and sprites that surrounds them.
The Spiderwick Chronicles Activity Pages
After reading the book series, don't miss out on the specially designed Spiderwick Chronicles Activity sheets and coloring pages from the author.
Download your own copies to enjoy!
The Spiderwick Chronicles Movie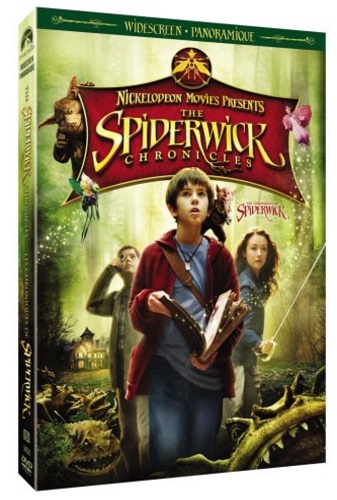 The Spiderwick Chronicles TV Show: Coming 2023!
Discover the Best Chapter Book Series for Tweens!
Related Book Lists: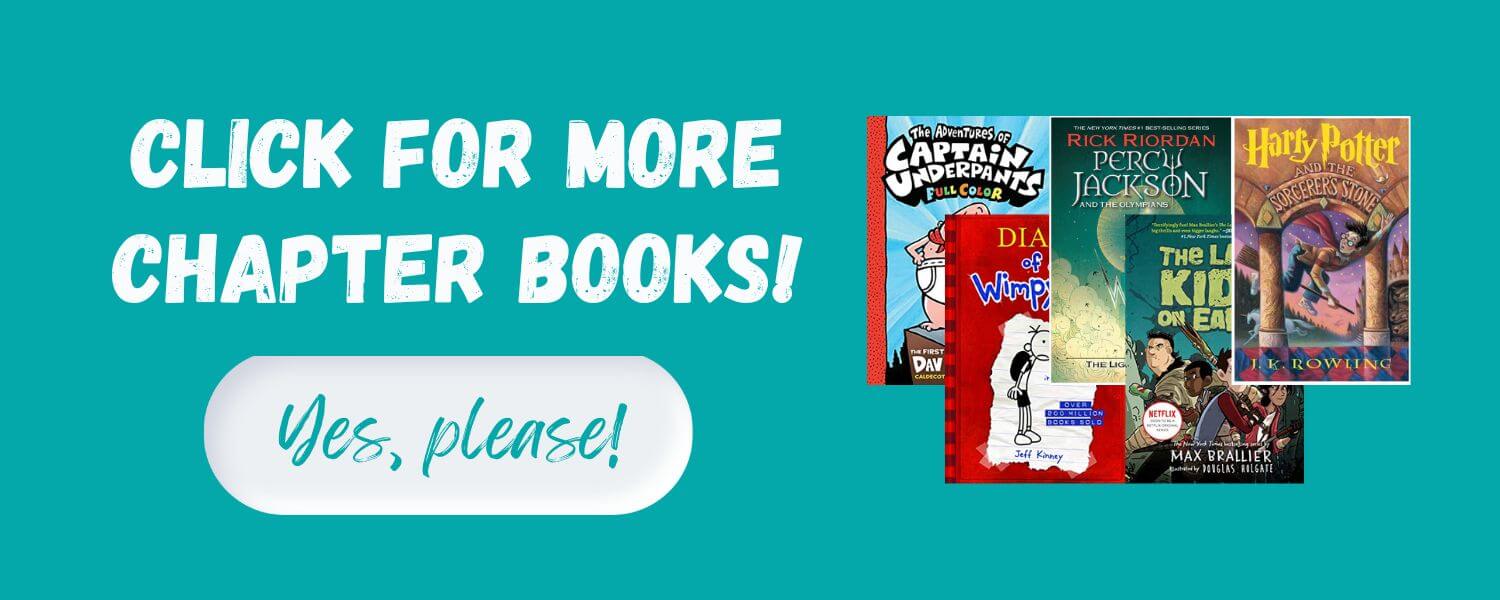 Pin This For Later: